Redmi officially unveiled the Redmi G2021 gaming laptop today. Over the past week, the company methodically published teasers that revealed all the key parameters of the new product, and today it only remained to wait for the price announcement. And she, of course, pleases. Yesterday's guess that the Redmi G 2021 will cost around $ 1,090 turned out to be correct.
The top-end configuration with AMD Ryzen 7 5800H and a full-featured GeForce RTX 3060 graphics card with a TDP of 130 watts is estimated at this money. This configuration is powered by a 230W unit. The option is simpler and cheaper for $ 880 – with an Intel Core i5-11260H CPU, GeForce RTX 3050 and a 180W power supply.
The rest of the parameters are common. Redmi G 2021 features a 16.1 " IPS screen with 144Hz frame rate, powerful Hurricane 3.0 cooling system with five heatpipes, two 12V fans and four ventilation holes for better ventilation, a full-size keyboard with customizable backlighting, HDMI ports 2.0, Mini Display Port 1.4, USB 3.2 Gen2 and USB-C, Wi-Fi 6.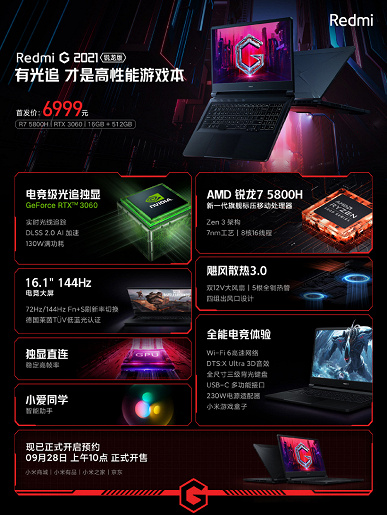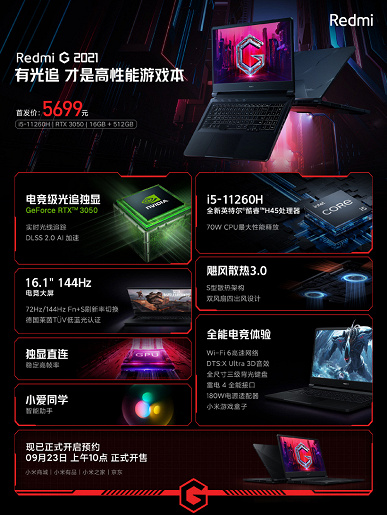 Windows 10 is used as the OS, later it will be possible to upgrade to Windows 11. The volumes of RAM and SSD are 16 and 512 GB, respectively. Also, Redmi G 2021 supports sound in DTS: X Ultra format, and the battery capacity is 80 Wh.
.