Meet the new part of the regular column with selections of interesting products from AliExpress! As part of this series of articles, I choose gadgets that are directly or indirectly related to the subject of the site. In such collections, you will find devices that will surely become of interest not only to geeks and fans of unusual gadgets, but also to average visitors to the Chinese marketplace.
Smartphone holder for car headrest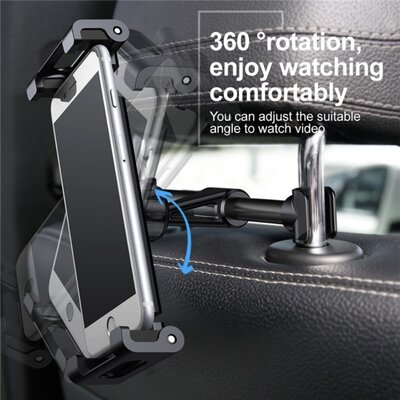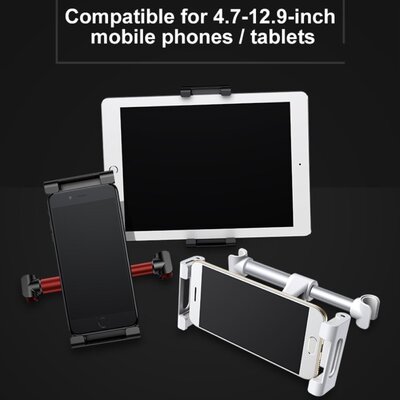 In fact, this fixture from Baseus is able to hold not only smartphones with a diagonal of 4.7 inches, but also really huge tablets with a screen up to 12.9 inches. The holder attaches to any headrest base thanks to a 4cm-adjustable sliding mechanism. The smartphone/tablet holding platform itself supports 360-degree rotation – perfect for kids.
Materials: aluminum, plastic, silicone.
Mounting length: 140–180 mm.

"The quality of the holder is excellent! All springs and clips are quite rigid and do not hang out. Good stuff, nice to use.
"Everything matches the description. Made qualitatively, the installation does not cause problems, everything is securely fixed.
"I installed. The vertical angle is missing. Do not complain about the quality. But I regretted it a little, for that kind of money you can take retractable ones with more convenient regulation of tilt angles.
Buy on AliExpress for 960 rubles.
4,000+ orders. Average rating: 4.9 out of 5 points (1,400+ reviews).
Shipment from a warehouse in Russia: no.
TV remote with built-in keyboard and touchpad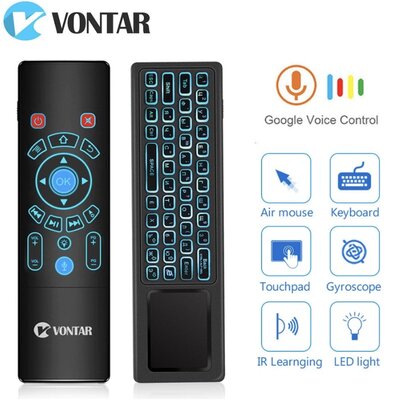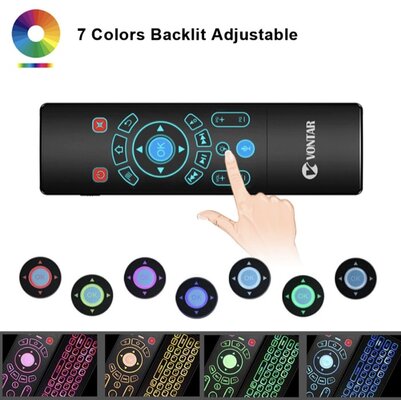 Using a conventional remote control to write something on a TV is a very problematic task, and everyone knows about it, having long become acquainted with remote controls with a built-in keyboard. But there are even more versatile models, and this one is one of them – in addition to the keyboard on the back cover, there is also a touchpad for moving the cursor. The remote also has a microphone for interacting with the Google Assistant, a gyroscope and color adjustment.
Dimensions: 172×52×19 mm.
Connection: by radio frequency 2.4 GHz.
Compatibility: with Android, Windows, macOS, Linux.

"The remote control is cool, BUT the main disadvantage is that there are not enough additional IR TV control buttons. The touchpad is basically a useless thing, the microphone button only works (!) In Android TV, in other places, whether it's a browser or YouTube, you need to click on the screen with the mouse to call up a voice search.
"Works great, very handy remote. Of the shortcomings, only cheap plastic case.
"It's not even worth writing the prefix "for that kind of money" – the remote control is definitely worth it. Bought for a TV set-top box from a local provider. The buttons are pressed comfortably, there are no false positives of the trackpad – it turns on itself only when the remote is turned upside down with the keyboard. Voice search works. It is possible to program the power button to turn on the TV is programmed (not set-top boxes).
Buy on AliExpress for 1,350 rubles.
150+ orders. Average rating: 4.6 out of 5 points (85+ reviews).
Shipping from a warehouse in Russia: there is.
Magnetic door stops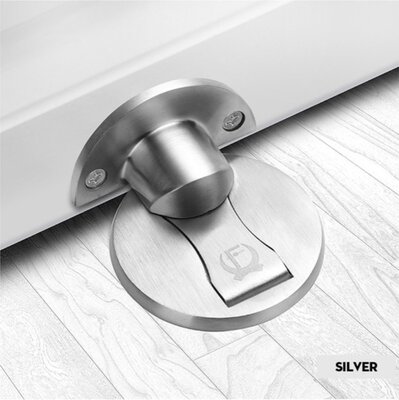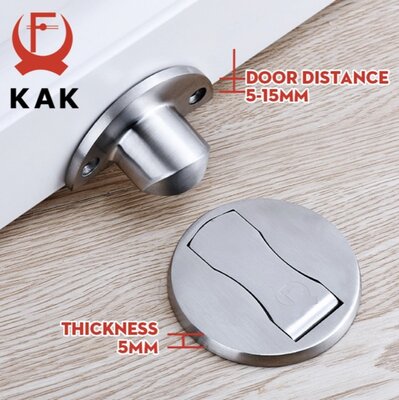 It is not uncommon for apartment doors to close on their own or slam against walls when opened, both of which can be easily prevented with a lock like this. Its essence is extremely simple: a half of the limiter with a magnet is attached to the door, and its base part with a locking leg is attached to the floor. When a powerful magnet is above the leg, one of its ends is attracted to it, after which the movement of the door is blocked (it can only be moved with force). Both parts of the limiter can be either glued to a strong double-sided tape or screwed with self-tapping screws.
Distance between door and floor: 5–15 mm.
Material: 304 stainless steel.

"The tape didn't last long. Screwed to the door and everything is ok! The magnet is excellent!
"Everything is super, I buy not the first time."
"Good product, I recommend screwing the magnet to the door, and not gluing it, otherwise it will slip, and the lower piece of iron can be glued."
Buy on AliExpress for 510 rubles.
4 570+ orders. Average rating: 4.8 out of 5 points (1,730+ reviews).
Shipping from a warehouse in Russia: there is.
Multifunctional bedside clock with projector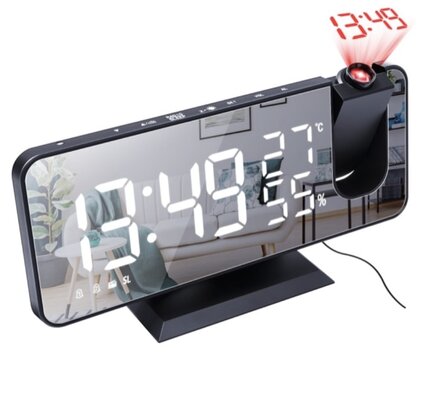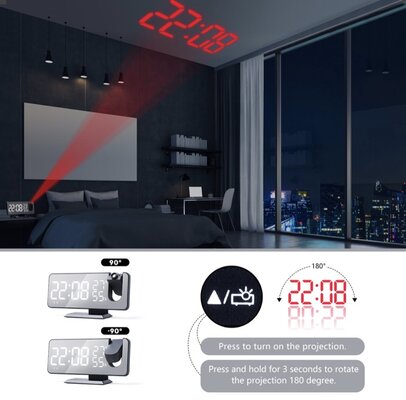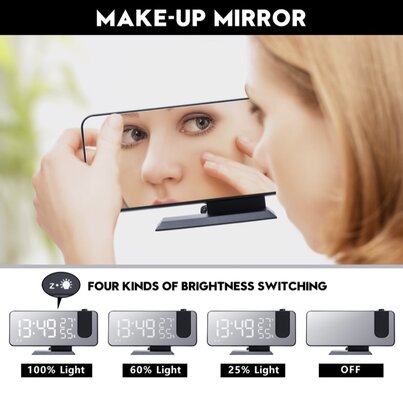 This is a really unusual clock, but it was worth including it in this selection largely because of the additional function of projecting time on the ceiling – the miniature projector supports 90-degree rotation to select the optimal projection location. However, even without it, the device has something to surprise: a built-in alarm clock and FM radio, a thermometer and a hygrometer (humidity sensor), as well as a USB port for charging other devices. Separately, it is worth noting the three brightness modes of the 7.3-inch display, as well as the option to turn it off completely (in this case, the surface simply becomes a mirror).
FM radio stations: within 76-108 MHz.
Dimensions: 18.3×9.5×2.2 cm.
Food: from a network and from the CR2032 battery.

"Hours are fine. I think it's great for this price. now the cons. the surface is mirror, glare. auto brightness does not work correctly, the sensitivity is poor, it only increases brightness at very bright colors. a projector, an interesting feature but not practical, it is of little use, there is no focus, there is no 360 rotation … an alarm clock, smoothly increases the volume of the radio, so you can oversleep. radio is not loud.
"The clock is working, the projector is working, the radio is being tuned. The thermometer is lying at 1.2-2 ° C in plus.
"I poked buttons and figured it out without instructions. instructions in English and Chinese, you need to translate (I did not need it). the projection of the clock, on the ceiling or where to direct it, is clear and does not go out. radio catches perfectly even better than on a car. immediately caught 20 channels. volume is adjustable. There is no adapter in the kit, it is not needed (suitable for any phone). the phone can be charged from the watch itself (by connecting the cable). shows the temperature and humidity in the room.
Buy on AliExpress for 1,330 rubles.
890+ orders. Average rating: 4.7 out of 5 points (360+ reviews).
Shipment from a warehouse in Russia: no.
Wall stand for smartphone and more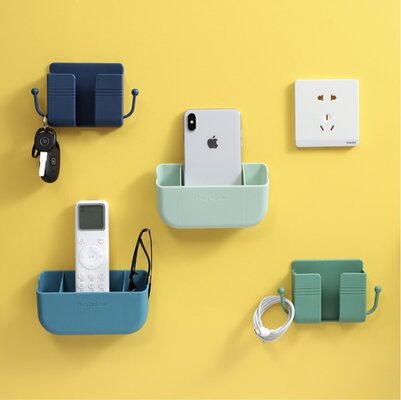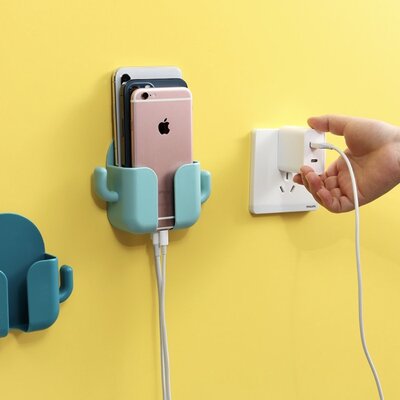 Such a stand is needed in cases where sockets are located in bad places and there is no furniture next to them – the smartphone has to be placed almost on the floor when charging. However, the seller offers a variety of models of this little thing, even equipped with special hooks for keys. In addition to a smartphone, you can put, for example, a remote control from an air conditioner or a TV, toothbrushes and paste, headphones, and more. The manufacturer claims that the double-sided tape is very durable: it can withstand weight up to 2.5 kg and is not afraid of moisture.
Material: ABS.
Dimensions: 10×8.5×2.6 cm.
Weight: 65 grams.

"Without foreign smell, the stand is large, good, for such money, for nothing."
"Everything is fine. the plastic is durable. the phone fits easily. I like".
"Good thing, stuck tightly. I will buy more of these for the kids. Highly recommend !!".
Buy on AliExpress for 115 rubles.
3 275+ orders. Average rating: 4.9 out of 5 points (1,015+ reviews).
Shipment from a warehouse in Russia: no.