A father sold his 9-year-old daughter for debts in Afghanistan – His cynicism shocks – "Of course I will sell another child"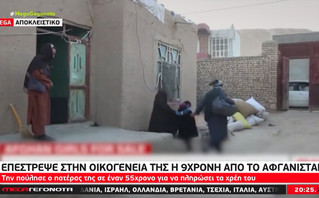 The martyrdom of 9-year-old Paruana from Afghanistan unfolds before the eyes of all of us and shocks. The little girl from the refugee camp in Badghis province, in the north of Afghanistan, was forcibly removed from her house after being bought by a 55-year-old man. Earlier, her father sold her for just $ 2,000.
The 9-year-old finally returned to her family after the intervention of journalists and an NGO. She was lucky unlike other girls her age after an American donor offered $ 10,000 to pay off her father's debt to the 55-year-old man. before he even married her or exploit it for other purposes. The girl spoke exclusively to Mega.
"I cried all night"
"I was scared when I was sold to an old man. My father sold me and now I can not go to school. When I heard that father he sold me, I cried all night", Says the 9-year-old to MEGA and Giannis Moutsos.
Paruana's father responds coldly as this is not the first time he has sold one of his children.
«The main reason was hunger. I had debts and no one lent me. "The government has abandoned us, the foreigners have left and now the Taliban have taken power and we have no one to help us."
– How did you find this man to sell your nine-year-old daughter?
– He had lent me money. He came to my house and told me to give him the money. I told him I did not have them. "Finally he told me to give him one of my daughters."
Human life in Afghanistan is very easily redeemed. The 9-year-old girl found herself helpless in a foreign house, unaware of what his future held.
– What did the buyer tell you when he took you from your family?
– Paruana: I was told to sweep the house, gather wood and do all the housework.
– FatherHe told me "no father, I have a wish from you and that is that I want to study, I want to become an engineer or a teacher to serve society". That was her purpose; she cried and was very upset. "
The 55-year-old man who bought the 9-year-old Paruana disappeared, while the little girl returned to his family with the other 5 brothers and his mother in a shelter NGOs in the city of Herat.
– Now that you are home, how do you feel?
-Paruana: I am very happy to be with my father and mother. My family does not force me to do chores and I can play with my siblings.
– What's your dream;
"Paruana: I would like to visit other countries and study there."
"Of course I will sell another child"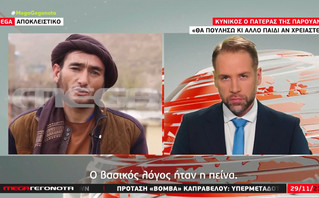 A few months ago, Paruana's father sold her 12-year-old sister to another man to make her a bride. With cruelty and cynicism the girl's father does not hesitate to repeat the same if necessary.
– How long do you think you will last until you find yourself in the same dilemma of selling another of your children?
– Father: If someone does not help us then we should all sell our daughters because of hunger in two to five months. I sold both my daughters. I have six daughters and a son. "Yes, of course I will sell another child."