Two border crossings, connecting the Kosovo with central Serbia, remain excluded for a fourth consecutive day. The Serb population in northern Kosovo, reacting to Pristina's decision not to allow vehicles with Serbian license plates to enter, blocked the Jarinje and Brnjak border crossings on September 20th.
Vehicles from Serbia are allowed to enter through other border crossings after drivers have previously replaced Serbian license plates with temporary ones issued on the spot by Kosovo border police, paying a five-euro fee for a 60-day stay.
Serbs in northern Kosovo began reinforcing roadblocks yesterday with heavy trucks placed perpendicular to the highway leading to the two blocked border crossings. At the same time, the presence of the Kosovo police is being strengthened. Strong forces of the Kosovo Police "Rosu" special operations unit have been deployed in the area to thwart a possible attempt by Serb citizens to seize the border crossings.
The situation at the border is tense
The situation at the border is tense, but so far there have been no serious incidents or clashes between Serbs and police. Kosovo Prime Minister Albin Kurti accuses Belgrade of inciting Serb reactions and says it is willing to withdraw the license plate measure if Serbia accepts the license plates issued in Kosovo.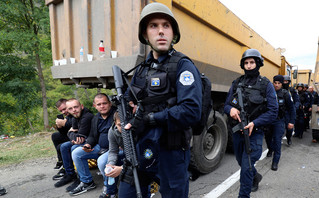 It is noted that Serbia, when vehicles enter Kosovo, requests the replacement of license plates with temporary Serbian license plates. The same measure is now being applied by the Kosovo government, citing the principle of "reciprocity". Serbian President Aleksandar Vucic rejected Albin Kurti 's proposal, saying it would mean that Belgrade indirectly accepts Kosovo' s independence.
Vuτςi αντι proposed a return to the regime that lasted until September 20 and a solution to the issue in Brussels as part of the dialogue under the auspices of the European Union.