The best planned event in the life of any couple is their wedding day, as they want everything to be as perfect as possible, just as they always imagined. However, this is not always the case and unforeseen events can get in the way of celebrating the wedding of your dreams. Still, many couples manage to keep their perspective and go with the flow.
Such as Pam Patterson and Jeremy Salda, a couple who got married at 30,000 feet after their flight to Las Vegas, the destination the couple had chosen to marry, was canceled due to inclement weather.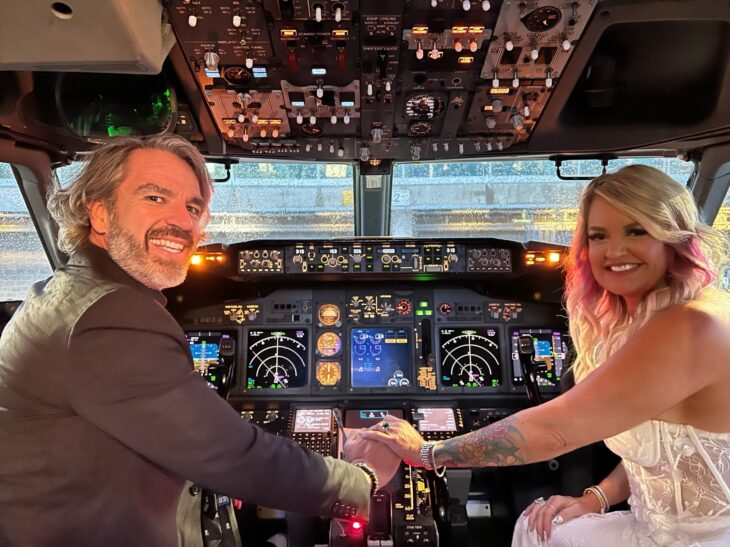 Pam and Jeremy were determined to get married, so they did not mind saying "yes" in full flight last Sunday, April 23, before the more than one hundred passengers on board who witnessed their union, and who will definitely never forget the Southwest Airlines Flight 2690.
The couple is originally from Oklahoma, United States, and spoke to the television network CNN that, days before, they had begun to joke with the idea of ​​getting married. However, what began as a game ended in a flight reservation and chapel in Las Vegas, two days after the dizzying plans.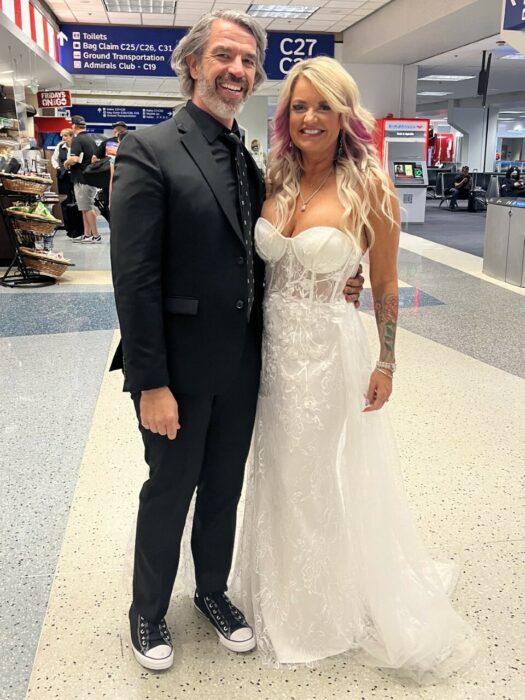 Pam and Jeremy met online two years ago and are having a beautiful wedding in Mexico this summer. However, between their conversations, the need to get married "officially" in the United States arose, and that is how they ended up with boarding passes to Las Vegas.
Once they decided to go ahead with their sudden wedding, they prepared their clothes and scheduled their date at a chapel in the city of sin, on Sunday at 9 p.m. Hours before the union, the future spouses appeared at the Dallas airport, suit and dress on, as they planned to go to the chapel as soon as the plane landed in Las Vegas.
However, weather conditions sabotaged their plans and the flight was cancelled. Visibly stressed, Pam and Jeremy began looking for alternatives to get to their destination on time.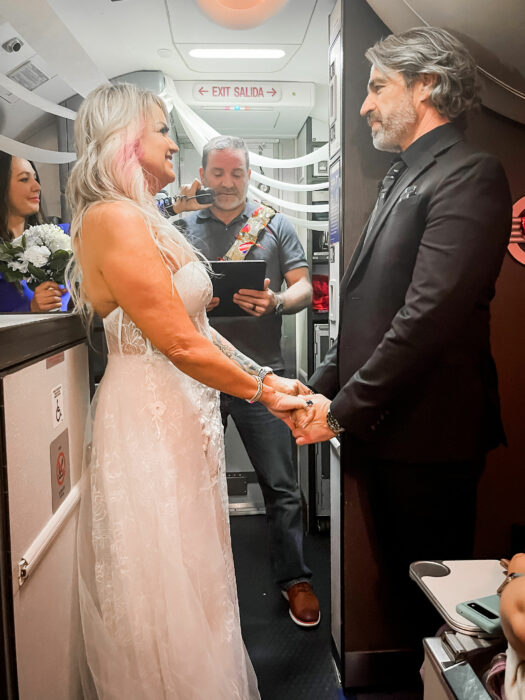 They changed us terminals, then they changed gates, and finally they just said it was cancelled. We were well dressed and visibly stressed, trying to figure out how to get to Las Vegas on time.

– Jeremy Salda, for CNN
But it was not all bad news, as luck was on his side. Turns out one of the passengers was a minister. This man named Chriss noticed the couple's stress and offered to marry them mid-flight.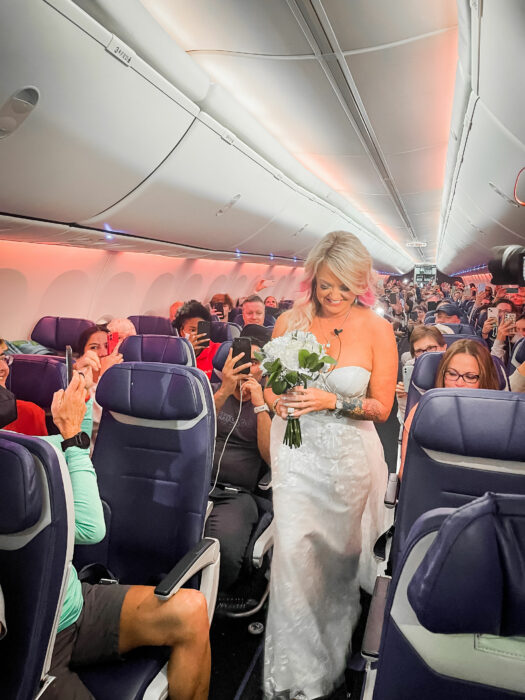 The three of them rushed to buy tickets for the last flight to Las Vegas, for which they had to transfer to another Dallas airport, 25 minutes away. With only a few minutes to spare, they managed to board the aircraft drawing the attention of the crew on board.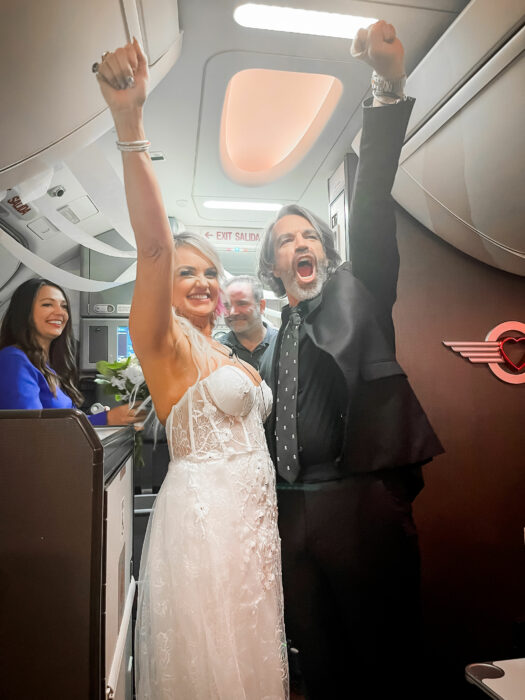 The captain sees us and says, 'Oh, are you going to Vegas to get married?' And I said, 'Well, we're going to try. If not, I want to do it on this plane.' And he says, 'Really?'

– Pam Patterson, for CNN
And that is exactly what happened. The airline shared the moment on its Twitter account and said that the crew placed toilet paper streamers, regulated the plane's lighting and prepared a band made of snacks for Chris.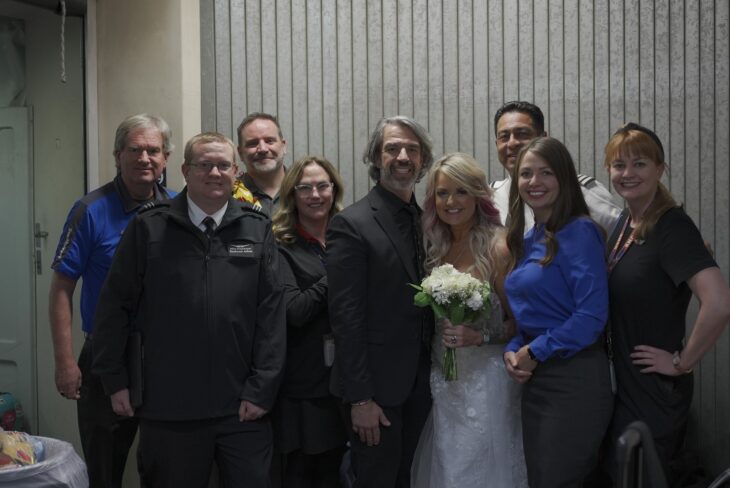 In addition, the crew downloaded a full wedding soundtrack before takeoff and had passengers press the assistance button at the same time to announce the "arrival" of the bride. As if that weren't enough, one of the flight attendants was Pam's maid of honor.
All the passengers filmed the wedding, and really everything went well for the couple, as it turns out that one of the passengers was a professional photographer, so now the newlyweds now have beautiful images to remember the most special day of their lives and a fun story to tell your grandchildren.
Source: Okchicas