Over the past few years, only a lazy manufacturer has not cited ecology when introducing their new device. However, not all brands do it for show – Microsoft is an excellent example here. Their new mouse is indeed 20% made from recycled plastic bottles collected from the bottom of the ocean. And you can see and feel it yourself, because in this case the fight for the environment was not limited to loud slogans, but directly reflected in the design of the device.
Equipment
Minimalism in everything
Acquaintance with the mouse begins with its cute packaging, which does not bear any markings other than the Microsoft logo. Information about the device itself was placed on a paper wrapper, which, alas, did not survive my unpacking. In any case, something else is important – the packaging of Microsoft Ocean Plastic Mouse is completely recyclable, as it is made of 100% wood fibers (it feels like it's just cardboard). Inside, apart from the mouse, there is absolutely nothing, except for a few booklets. This is understandable: this is a Bluetooth mouse, what else can you put in the box?
Design
Heart hit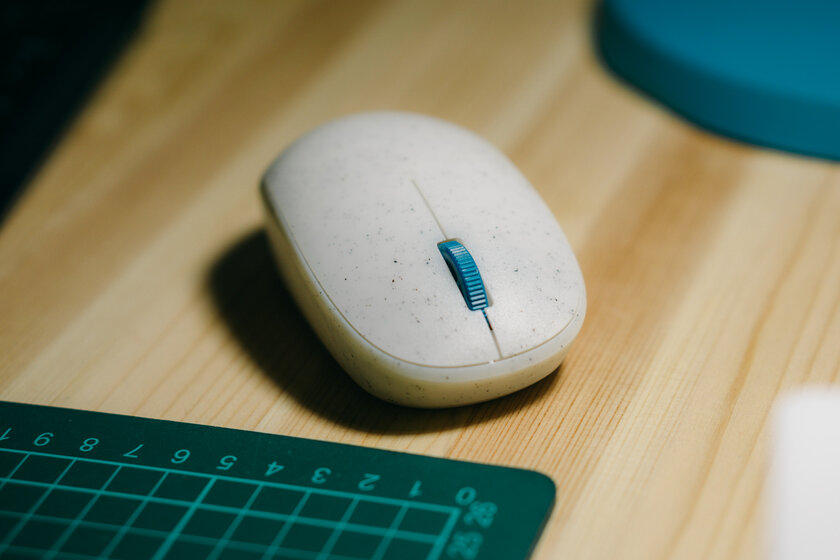 Here we come to the most interesting thing – the appearance. Despite the simplicity of its shape, the Microsoft Ocean Plastic Mouse looks great. The design of the mouse is calm and discreet, and this is exactly what you expect from such accessories. I like literally everything about it: both the color accent on the mouse wheel and the splashes of recycled plastic. The former matched my desk lamp and the off-screen Nintendo Switch Lite in its shade, while the latter matched the texture on the sole of the sneakers. Isn't it a miracle?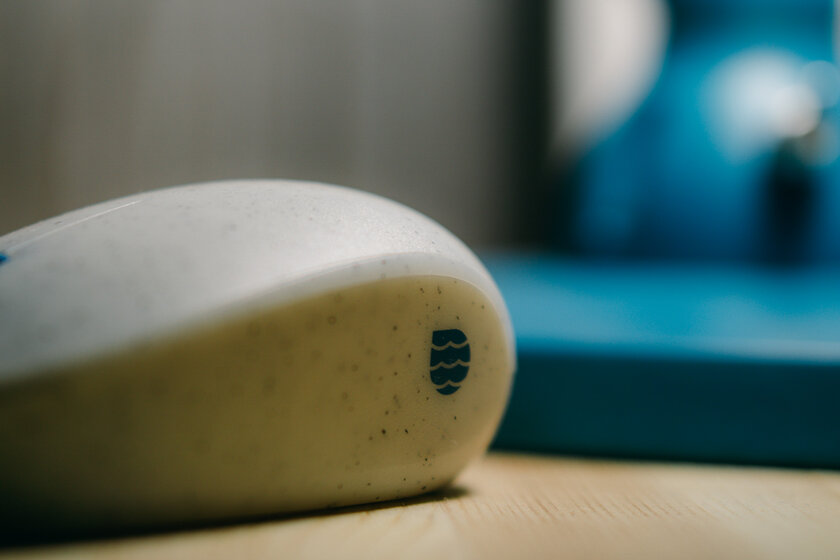 The touch Microsoft Ocean Plastic Mouse practically does not differ from the usual Microsoft mouse made of black plastic – it is a simple material without frills, which, however, has its advantages. The point is that the mouse does not collect fingerprints at all. Yes, yes, even if you touch it after eating a packet of chips before. In contrast to the black SoftTouch mouse I've used before, the Microsoft Ocean Plastic Mouse seems like an absolute breakthrough.
As for the usability, everything is at a decent level. The mouse is definitely not ideal for gamers or designers due to its size (I wish it were bigger), but for everyday use and office tasks it is definitely suitable. My hand is not tired after several hours of continuous use, however this is a very individual indicator. The dimensions of the Microsoft Ocean Plastic Mouse are 100.4 x 58.2 x 38.3 mm, and the weight is 84 grams if you take into account the battery.
Specifications
Nothing remarkable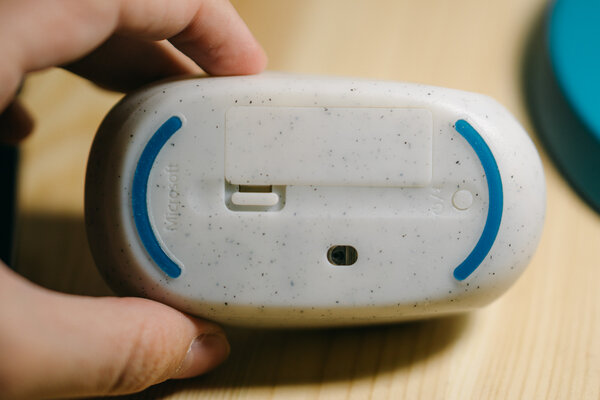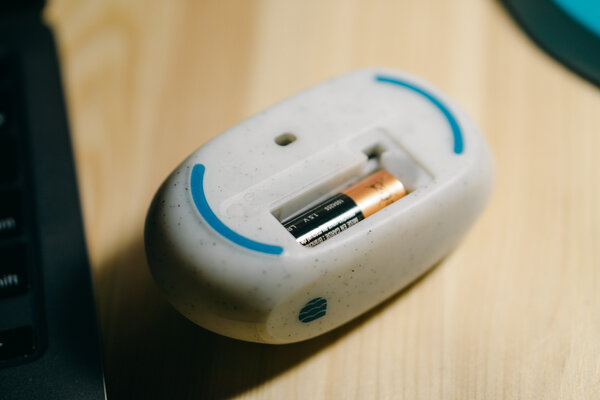 Now a few numbers, where without them. The XY mouse resolution is only 39.4 dots per millimeter, or roughly 1000 dpi. This is not much, but, again, for simple tasks like scrolling the browser and working with documents, it is enough – but moving pixels in Illustrator and Photoshop is better with a more precise mouse. The manufacturer also claims a dynamic rendering speed of up to 4000 frames per second and a tracking speed of up to 762 mm per second. I almost forgot: the mouse is sold with an AA battery already inserted, which, according to the manufacturer, is enough for 12 months of operation.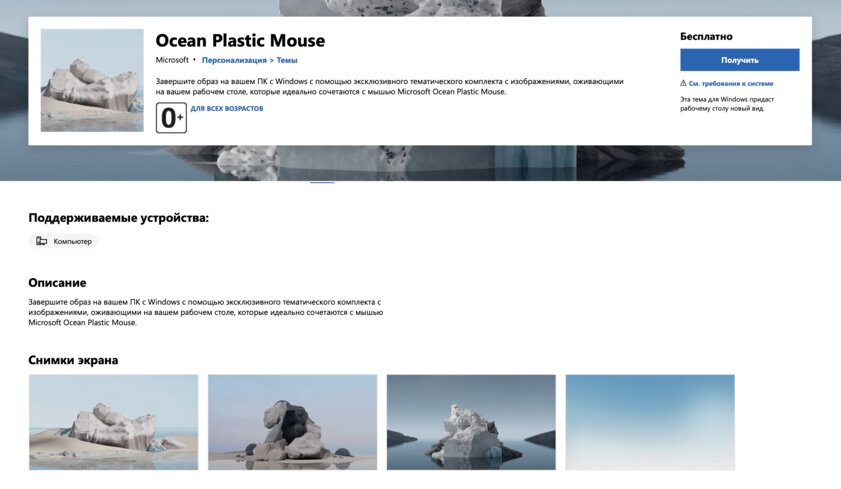 In general, I can summarize that this is a fairly standard mouse without additional functionality in the form of side buttons and game mode, which behaves exactly as you expect. Of the interesting things, it is worth noting perhaps the accompanying mouse theme for Windows with matching wallpapers that showcase beautiful views of the ocean. Apparently, so as not to forget that you are saving by buying Microsoft Ocean Plastic Mouse.
Review
Stylish mouse for undemanding users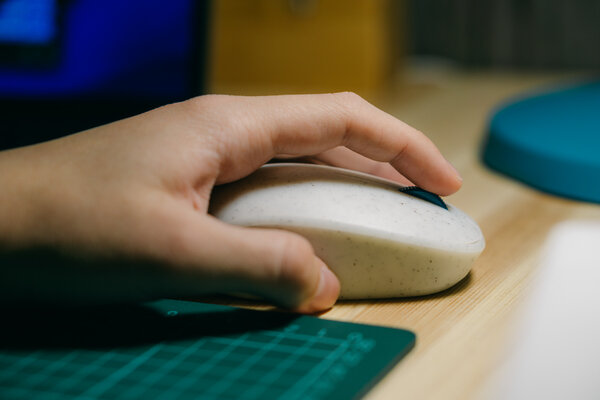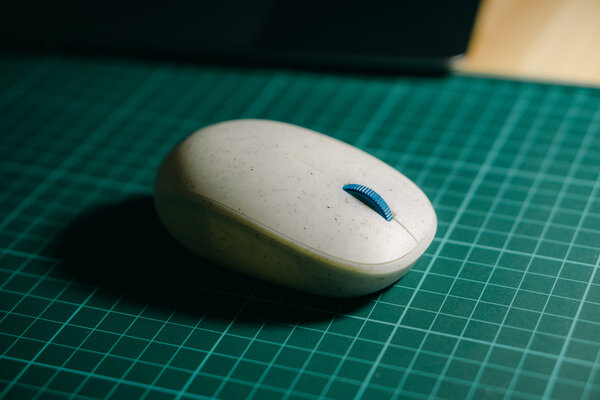 Microsoft Ocean Plastic Mouse does not lure the buyer with flagship features or top-end ergonomics, it does so with an unusual design and a useful idea for society. Of course, all this is individual, and if the thought that my mouse is 20% made of bottles from the bottom of the ocean warms me up, then for someone it will be an empty sound or even an excuse not to take the device. However, I still cannot fail to note the simple and working design with a beautiful color accent – this cannot be taken away from Microsoft Ocean Plastic Mouse. But this case is not only beautiful, but also practical! The mouse does not collect fingerprints at all, compared to competitors made from more traditional plastic. If you are an undemanding user who uses the mouse only for navigation most of the time, the Microsoft Ocean Plastic Mouse is perfect for you. For advanced users, everything is clear at a glance – the device is not for you.
pros
The pleasant feeling that you have helped nature.
Stylish design with interesting texture.
12 months of operation from a complete battery.
The case does not collect fingerprints.
Minuses