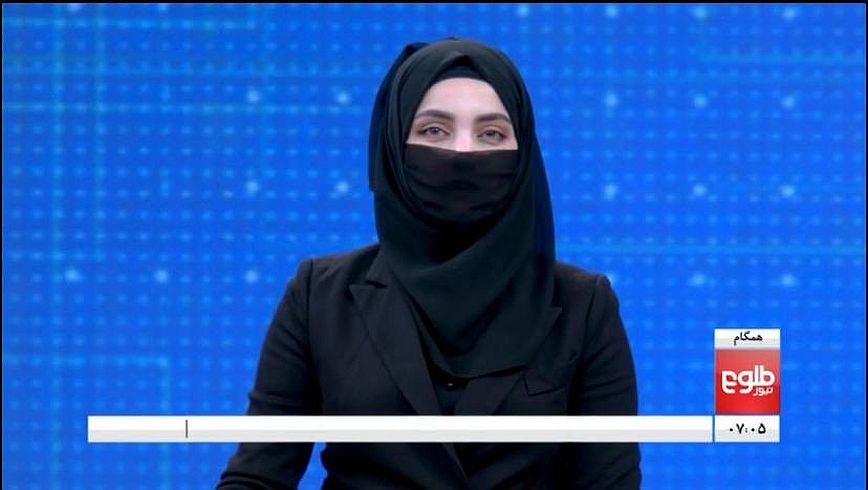 The TV presenters of the biggest TV networks in Afghanistan appeared in the air today with their faces covered, following the Taliban command after they had defied it yesterday.
After returning to power last year, the Taliban imposed a series of restrictions on society, much of which is intended to subjugate women to their own strict idea of ​​Islam.
Earlier this month, the Taliban's top leader issued an order requiring women to have their entire body publicly covered, including the face, preferably a burqa, a full-body veil with only one opening. at eye level.
Previously, a scarf covering the hair was enough.
The infamous Afghan Ministry of Virtue Promotion and Prevention of Corruption had ordered the TV presenters to cover their faces since Saturday.
Female journalists initially chose not to obey this order by appearing in the air without hiding their faces.
But today the presenters wore the full veil, leaving only their eyes and forehead visible, to present the news on the television networks TOLOnews, Shamshad TV and 1TV.
"We resisted and we were against the burqa," Sonia Niazi, a TOLOnews presenter, told AFP.
"But TOLOnews succumbed to pressure (from the Taliban), saying that all presenters who appear on television without covering their faces should look for another job," he said.
The director of TOLOnews, Hpolwak Sapai, stated that the network was "forced" to implement the order for its staff.
"We were told: 'You must do it. You have to do it. "There is no other solution," Sapai told AFP.
"I was called on the phone yesterday and told to do so on strict terms. "So, there is no choice but to do it, they force us and force us," he said.
Mohammad Sadek Akif Mohashir, a spokesman for the Ministry of Virtue Promotion and Prevention of Corruption, said authorities had no intention of forcing the presenters to quit their jobs.
"We are pleased that the networks have properly exercised their responsibility," he told AFP.
Source: News Beast