The movie world and Hollywood are still trying to work out the tragic accident that happened during the shooting of the movie Rust with Alec Baldwin in New Mexico. The actor inadvertently shot dead the director of photography Alina Hutchins and fortunately, as it turned out, did not seriously injure the director Joel Souza.
While the initial reports spoke of a very serious injury of the 48-year-old director with many fearing for his life as There were reports from the American media that he had been transported in critical condition to a hospital where he was rejoicing in the intensive care unit, his condition was not worrying.
Finally, according to information transmitted by the Independent, Souza, after a thorough examination by the doctors, was discharged and is with his family. According to the publication, a statement is expected.
The tragic irony with the story of the film and the events on set
Alec Baldwin accidentally shot Alina Hutchins and director Joel Souza with a prop weapon which, however, was found to contain regular bullets.
Many and unanswered are the questions that plague the filmmakers about how a fake weapon was found to be armed with regular missiles. Like and why in the scene of the movie Rust the choice had been made to have weapons even with bullets. It has not yet been clarified what kind of weapon the actor used.
However, there were many who noticed a tragic irony in the already tragic case of the movie Rust.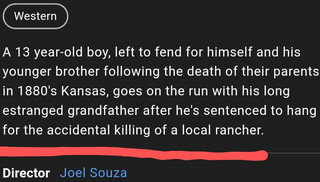 The story of the film concerns a 13-year-old boy back in 1880 who is left alone to take care of himself and his younger brother after the death of his parents. The boy disappears along with his grandfather who had been sentenced to be hanged for his unintentional murder of a local ranch owner.
Just like in real life with Baldwin accidentally shooting Hutchins and the director.