Share CME in the aggregate open interest (OI) for bitcoin futures over the past two weeks has grown from 12% to a record 17% since February 2021. With this, Arcane Research analysts explained one of the main reasons for the current rally in Bitcoin to the highest levels since May.
The Weekly Update — Week 40
🔹#Bitcoin continues to outperform altcoins. Has bitcoin's time to shine finally arrived?
🔹Institutions are piling into the CME futures, betting on a futures-backed ETF approval
🔹Mining profitability surges in Octoberhttps://t.co/97Q8xqhfdn

— Arcane Research (@ArcaneResearch) October 12, 2021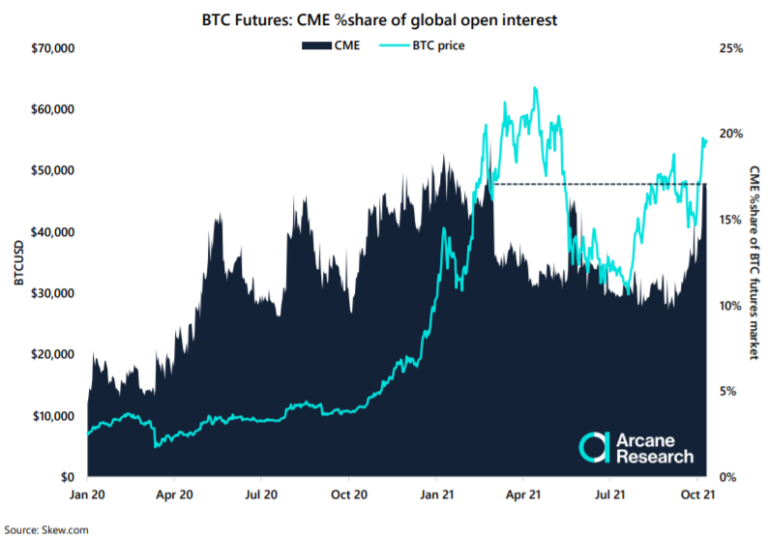 Experts noted that the growth of OI to 340,000 BTC in the period from September 26 to October 10 showed the highest rates since July. That period was also accompanied by the activation of buyers. The largest contribution was made by traders trading on CME – here the indicator grew from $ 1.5 billion to $ 3.3 billion.
The situation in context has also changed. basis CME regarding unregulated platforms. In October, futures on the Chicago Mercantile Exchange began to trade at a premium, which was last seen in July, and was a rare occurrence in 2021 overall.
Analysts saw this as a signal of a "healthier" rise in the price of the first cryptocurrency. They cited CME traders' bullish outlook for approval odds as the reason. SEC bitcoinETF.
In the market for perpetual contracts, the financing rate remained in positive territory (in the range of 0.01–0.03%), indicating that positive price expectations remain. The indicator did not reach the levels of March-April (0.1%), which preceded the achievement of Bitcoin's all-time high.
Analysts at Glassnode noted that Bitcoin's return to May highs is accompanied by positive trends in accumulation, hodler behavior and increased on-chain activity.
Previously, Pantera Capital CEO Dan Morehead did not rule out that the launch of an exchange-traded fund based on the first cryptocurrency would lead to the end of the bull market.
Stay in touch! Subscribe to World Stock Market in Telegram.