AUD / USD Regains 0.7100 Status, Threatens to Break Technically Bullish Amid RBA Vibrations of Risk and Hawks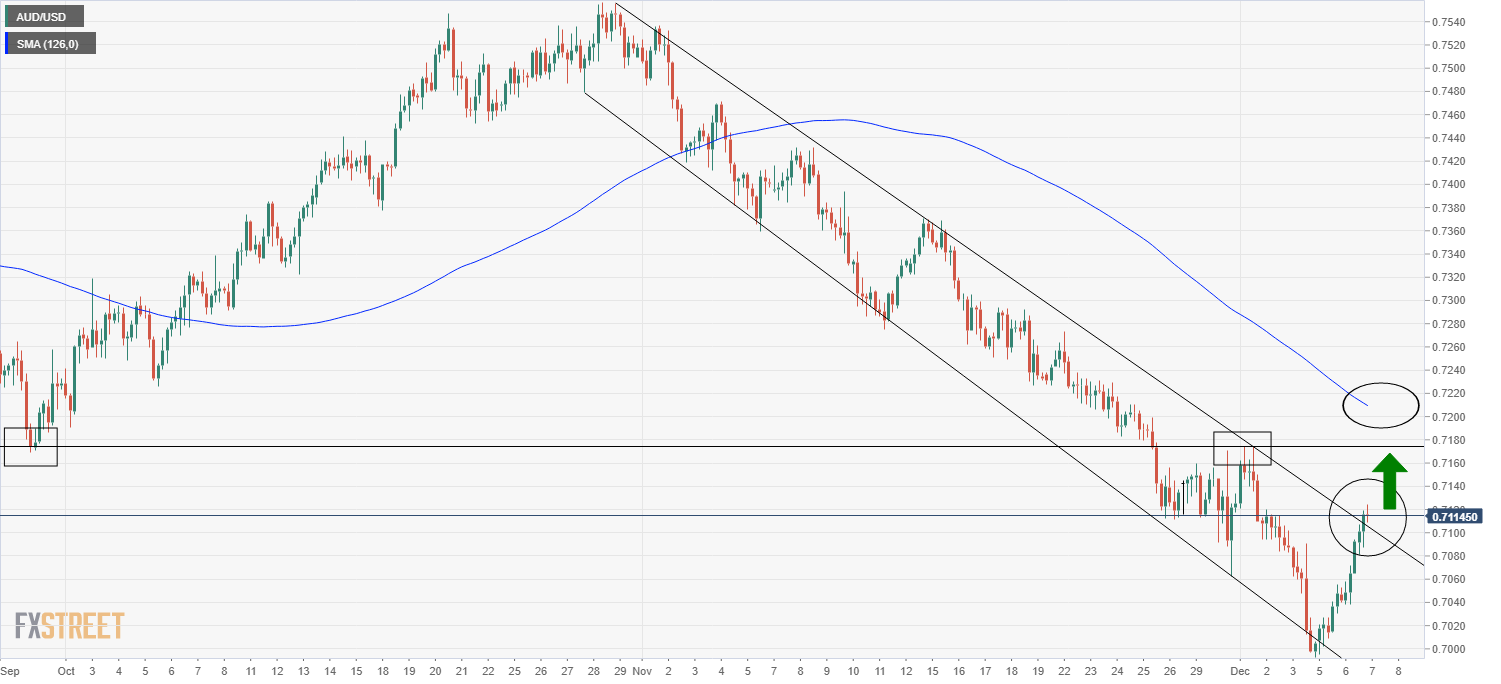 AUD / USD rallied to the 0.7100 level on Tuesday amid a broad surge in risk appetite.
But strong Chinese trade data and aggressive interpretations of the RBA's latest policy decision also support the Australian dollar.
AUD / USD threatens to break above a key downtrend channel.
The AUD has continued to climb during Tuesday's session, moving above 0.7100 in recent hours as risk appetite has continued to improve. That marks a recovery of more than 1.5% from last Friday's lows modestly below 0.7000, with 0.9% of those gains coming on Tuesday.
The AUD/USD it is now challenging the upper bounds of a downtrend channel that has been suppressing price action since early November. A break above this downtrend line, which the pair is currently flirting with just above 0.7100, would open the door for a strong rally towards the next resistance zone around 0.7170, ahead of the 21-day moving average. just below 0.7220.
Aggressive RBA
Perhaps the biggest factor driving the AUD on Tuesday was aggressive interpretations of the latest RBA rate decision. As expected, the bank kept interest rates at 0.1% and pledged to continue buying bonds at a weekly rate of A $ 4 billion through February. But the bank, while acknowledging that Ómicron was a risk to the outlook, said it did not believe the new variant would derail the recovery.
"The RBA has clearly positioned itself among central banks (such as the Fed) that currently do not see the new variant as a probability of actually slowing down the recovery and the policy plan," ING said. "With many short positions still to be undone, this is a notion that can continue to support the Australian dollar for weeks to come," the bank added.
Meanwhile, a reference to the expectation that inflation will be within the bank's 2.0-3.0% range in 2023, which some analysts saw as the bank opening the door to an earlier rate hike, was removed from the statement. Famed RBA observer Terry McCrann said "it is clear that Australia is approaching a rate hike, not just potentially in 2023, but possibly even relatively early next year."
Additional technical levels
.