- Article Top Advertisement -
The importance of inclusion in access to work. Corporate social responsibility. The fight against discrimination and diversity as an added value. Audi and Vanity Fair were protagonists at the Milan Design Week with the panel Re-generate our society, at The Medelan, the historic building in Piazza Cordusio that has become a futuristic center dedicated to business from a sustainable perspective which, from 6 to 13 June, hosted the Audi House of Progress. Because it is sustainability that unites regeneration and progress: environmental, of course, but also social.
In fact, innovation is nourished by talent, pragmatism and vision, qualities that can flourish and evolve only in a climate of inclusion and diversity. Where are we today? Charity Dago, image consultant and founder of Wariboko, Claudia Segre, president and founder of Global Thinking Foundation, and Naomi Accardi, editor and marketing director of Sunnei, three leading experts on diversity & inclusion led by Simone Marchetti, talked about it. Vanity Fair European editorial Director and Vanity Fair Italia Editor in Chief.
- Article Inline Advertisement 1-
A stimulating dialogue, an exchange of ideas that will touch on three key areas. Talent & Creativity with Charity Dago, who at the beginning of 2020 opened the first casting agency for Afro-descendants in Italy. Educational & Finance with Claudia Segre, who with her foundation supports projects for quality education (among the objectives of the UN 2030 Agenda) and promotes financial education as a tool for achieving gender equality. Business & Company with Naomi Accardi, who in her work intertwines fashion, sport and social dynamics.
Starting from personal experiences, therefore, to arrive at a shared vision of the future based on equality in growth, regardless of ethnicity, gender, age, disability, political and sexual orientation. A future where humanity is capable of take care of yourself and the planet. A future where competition leaves room for collaboration. To a cooperation through differences, without any form of prejudice, which is the basis of creativity, innovation and – therefore – the success of a company.
A discussion on the necessary premises for the re-foundation of a new generational and re-generational pact, taking the only possible path: that of sustainability.
Follow the panel in streaming on June 17th at 6.30pm on https://houseofprogress.vanityfair.it/ and on the Instagram and Facebook channels of Vanity Fair Italia.
Find out more about https://myaudi.it/it/live/audi-house-of-progress
Other stories of Vanity Fair that may interest you
Audi and Poliform at Milan Design Week: the future comes from within
Audi's quattro drive protagonist in the MonteNapoleone District
Source: Vanity Fair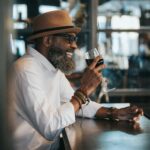 - Article Bottom Advertisement -