A forest fire which broke out today in the south Turkey approached residential areas near a tourist area, injuring three people and evacuating four neighborhoods, Turkish media reported.
The fire that started in a forest in Manavgat, in the province of Antalya, quickly reached residential areas due to strong winds, destroying houses in the area of ​​Kalemler.
Three people who suffered burns, including one in serious condition, are being treated.
Authorities evacuated four neighborhoods in Manavgat in the wake of the fire, which was "partially brought under control" in the afternoon.
Hundreds of forestry workers, with the help of helicopters and an airplane, are trying to bring the fire under control.
The news channel NTV broadcast images of about 20 empty and charred houses, some of which continued to burn.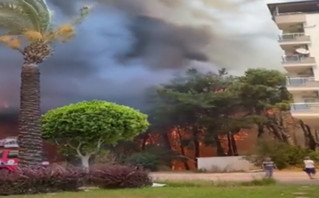 The tourist areas are not threatened, however, Mukhitin Bocek, mayor of the city of Antalya, which is administratively part of Manavgat and is located 66 km away, assured the Turkish state news agency Anadolu.
"Fortunately, no human lives have been lost. Starting the fire from four different points indicates arson. "But we do not have clear information at the moment," the mayor added.