"Immediate steps to de-escalate" the tension at its borders Of Ukraine asked the Russia the German Foreign Ministers Analena Berbock and the US Anthony Blinken, warning that, otherwise, there will be very rapid and serious consequences – economic, political and strategic. The two officials stressed once again that the preferred path is that of dialogue and diplomacy and made it clear that the US, Europe and the G7 share these views and will act in cooperation, as broadcast by APE BPE.
"We are asking for immediate de-escalation steps. "Any further aggression will have serious consequences, economic, political and strategic," said the German foreign minister, following a meeting in Berlin with her US counterpart had yesterday consultations in Kiev and tomorrow he will meet with the Russian Foreign Minister Sergei Lavrov in Geneva.
"For the Europeans, this is nothing less than maintaining peace on the continent – an issue of existential importance – and we will defend it even at economic cost," Ms Burbok said, adding that Berlin and Washington agreed that the only way forward was to policy and its dialogue can lead to exit from the crisis. "Unfortunately, the Russian attitude speaks a different language," she said.
"To prevent further Russian invasion or destabilization of Ukraine"
"The United States, Germany and the Western partners are united and determined against Russian aggression," said Anthony Blinken, noting that development depends on Moscow. The goal of the intensified diplomatic effort in recent days, he continued, is to find a diplomatic solution to the tension provoked by Russia, "to prevent further invasion of Russia or destabilize Ukraine" and "to address important security issues" for the US and European partners. their.
Any aggression on the part of Russia will have "very rapid and very serious consequences", the head of the State Department reiterated, noting that the message is same from all US partners and allies. "We are at a crucial crossroads. "We can not choose the path on behalf of Moscow, but we can make clear the consequences of any choice – positive if dialogue and diplomacy are chosen and very negative if aggression is chosen," Mr Blinken added. and stable relations with Russia are in the interest of all.
The aim of the contacts in the last days was, according to the American official, the coordination of the forces against the Russian aggression. "I will speak with this united voice to Sergei Lavrov tomorrow as well," he said, stressing once again that any action would be a product of conciliation. "The United States is also counting on the interests of its partners," Anthony Blinken said, accusing Moscow of trying to divide the front.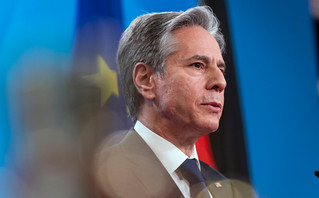 In addition, referring to the forms that Russian aggression can take in addition to direct military action, he spoke of hybrid attacks, destabilizing actions and for paramilitary tactics.
He even assured that all possibilities are being considered there will be an answer in each case.