Children are full of innocence and kindness, and therefore they always give us the best life lessons; If you don't believe it, then you must know the following story in which a little boy helped his classmate in a wheelchair to participate in a race, carrying his wheelchair around the schoolyard without anyone having to ask him. He did it out of the sweetness of his heart.
His noble gesture has gone viral on social networks, and the little boy has received countless messages of love, support and admiration for his generosity and infinite kindness.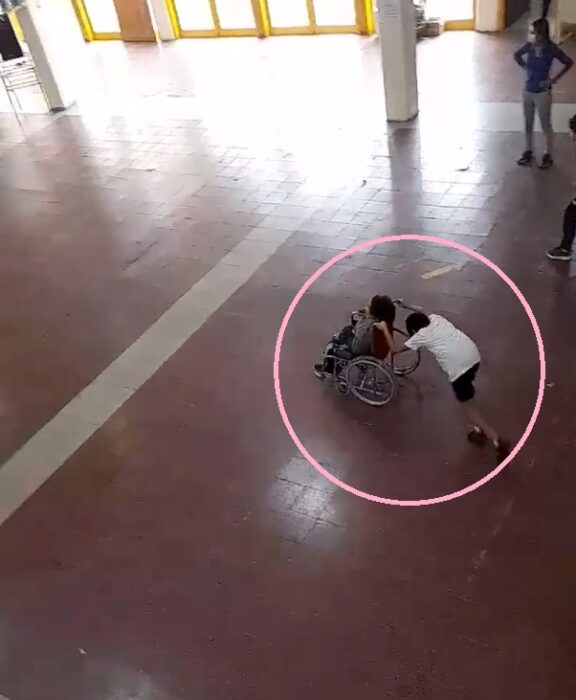 The events were recorded by a security camera in a private institution. In the images, children are seen in what appears to be a physical education class, which included an activity with races.
In the footage, it can be seen that the children are divided into two lines, run, make a turn and return to their place; however, it is possible to see that one of the little ones, instead of going to line up after finishing his routine, runs for his companion in a wheelchair, pushes him and helps him complete the circuit, just like him and the rest of the group. his friends had.
This child's gesture to include his partner in a wheelchair 👏🏽👏🏽🎖 pic.twitter.com/58lh7Pamu6

– Chendo (@AbatasteMr) March 21, 2022
So far no details have been given of where this video was recorded, nor the names of the minors, but it is not necessary to know the particularities of the video or of the little ones to appreciate the great value, camaraderie and empathy that children can harbor in your hearts to make this world a better place.
Perhaps it is time for us to replicate their actions and, like them, contribute a grain of sand to brighten the day of those who need it most. Every day we must strive to be more generous!

Source: Okchicas