- Article Top Advertisement -
The student at the Faculty of Medicine of Ribeirão Preto (FMRP) at USP, Verena Paccola, was awarded by the Minister of Science, Technology and Innovation, Marcos Pontes, for the discovery of 25 asteroids for NASA.
After undergoing training with scientists from the US space agency, the 22-year-old Brazilian started to receive packets of images captured by a telescope in Hawaii.
- Article Inline Advertisement 1-
"I analyzed this image package. That's four images flashing in sequence for me. They are taken with a difference of seconds between each one. So I would see if there was anything moving," he explained.
When she noticed the presence of a moving object in the images, Verena did a numerical analysis to identify if there was an asteroid pattern. The young woman's reports were sent to Harvard University to confirm the discovery.
Of the 25 asteroids found, one of them is rare. Categorized as a "weak asteroid", one of Verena's finds is part of a group of objects that can collide with Earth.
NASA is still studying the asteroid's orbit to identify the size of the object and whether there is a possibility of a collision with our planet.
However, Verena explains that "space is too giant for the size of Earth. So the probability of an asteroid colliding with Earth and causing an effect is very small."
The student says that she was always very curious. Although her area of ​​greatest interest is health, the young woman remembers that since she was a little girl, she liked to observe the sky with a telescope she had.
"I wouldn't trade medicine for anything, but now that I'm getting more stimulation in the space area, let's see. A space medicine, maybe, I don't know", he evaluates.
Verena received medals, certificates and a trophy from Minister Marcos Pontes at the National Science and Technology Week, held in Brasília.
Now, the student is preparing for face-to-face training at NASA. "Let's see if it gets off the ground for this year," he says.
Verena intends to continue the asteroid hunt and is seeking interested candidates. "I am recruiting people on my Instagram to do a mass training of those who are interested and create teams to hunt for asteroids this year together."
* Under supervision of Rafaela Lara
Reference: CNN Brasil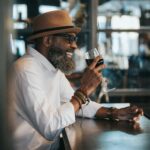 - Article Bottom Advertisement -