The tornadoes it is an extremely dangerous but at the same time impressive phenomenon that is always riveting. A driver had the double fortune to initially escape from a tornado as it touched the ground and passed through a highway as well as to record it alive.
Footage shows the tornado passing in front of motorists with debris being blown into the air by strong winds while its passage causing explosions.
The tornado hit his Orange County Texas Wednesday morning, bringing with it dark clouds. The storm that followed decimated the nearby town of Mauriceville, with officials estimating that 100 homes were hit by the devastating effects.
Louisiana, Mississippi and Florida in the eye of bad weather
This came after a tornado warning was issued for Houston and the surrounding area on Wednesday.
Thousands of people across the state of Lone Star were left without power as a result of the storm, reports Weather.com.
Meteorologist Chris Dolce said the storms will move to Louisiana, Mississippi and Florida in the coming days.
He added: "Basically we are going to see a series of storms moving east. "Supercells could also be created."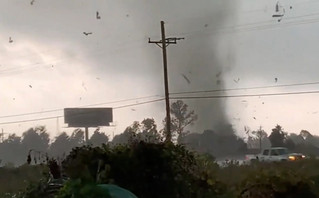 On average, about 132 tornadoes pass through Texas each year. Texas is considered the capital of tornadoes, with more being recorded there than any other state in America.

I am Derek Black, an author of World Stock Market. I have a degree in creative writing and journalism from the University of Central Florida. I have a passion for writing and informing the public. I strive to be accurate and fair in my reporting, and to provide a voice for those who may not otherwise be heard.