Under the cheers and applause of her loyal subjects, the body her Queen Elizabeth passed the gates last night (13/9). Buckingham Palace for a final night at her official residence in Londonbefore going on a five-day public pilgrimage to Westminster.
There she was greeted by her son Charles III and royal wife Camilla, who had just returned from a short official visit to Northern Ireland, as were other members of the royal family. Her funeral will take place on Monday at Westminster Abbey.
Outside Buckingham Palace, a huge crowd paid their last respects to her 70-year reign, with cheers and applause, despite the bad weather.
Earlier along the route followed by procession from the airport of the British capital, in which her body was transferred from Edinburgh, to Buckingham Palacethousands of people had gathered to pay their last respects to the queen.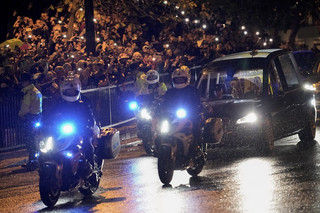 Source: News Beast