The Bitcoin exchange rate has fallen below $26,700, reaching its lowest level since the end of December 2020. This may be due to the collapse of the UST stablecoin and the USDT turmoil.
The beginning of May was not very successful for bitcoin – at the beginning of the month it fell sharply from $40,000 below $36,000 amid a decline in the stock market, which was facilitated by statements by the US Federal Reserve System (FRS) to raise interest rates.
The situation was aggravated by the collapse of the stablecoin TerraUSD (UST), pegged to the US dollar, to $0.22, and the cost of LUNA fell by almost 95% per day to $0.19. The consequences of the collapse of these crypto-assets still continue to have a negative impact on the cryptocurrency market – today Bitcoin has fallen below $26,700.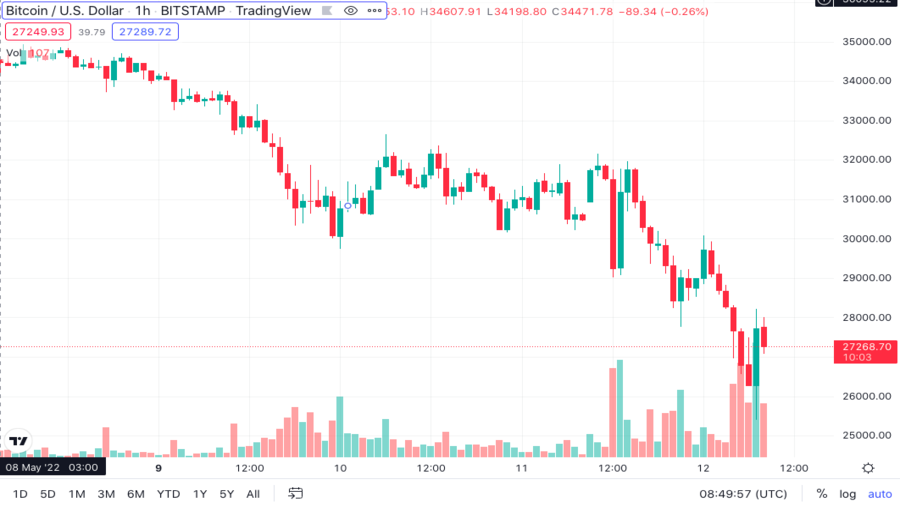 As usual, other major crypto assets that are in the top ten by market capitalization rushed down after bitcoin. ETH dropped to $1,799, SOL to $37, BNB to $217, ADA to $0.40 and DOGE to $0.06. The total market capitalization of cryptocurrencies has decreased to $1.1 trillion.
The tension among traders is only increasing as the largest stablecoin Tether (USDT) is also starting to show warning signs. USDT traded at $0.95 per coin on some exchanges.
It is difficult to name the reasons why investors are willing to sell their USDT at a lower price. Unlike TerraUSD, whose reserves are mainly backed by bitcoin, the USDT stablecoin is backed by traditional currencies and obligations in them. In addition, Tether has repeatedly published the details of the provision of its stablecoin.
Recall that the Fed recently warned users about the risks of stable cryptocurrencies, which may lose liquidity during the financial crisis and inflation.
Source: Bits