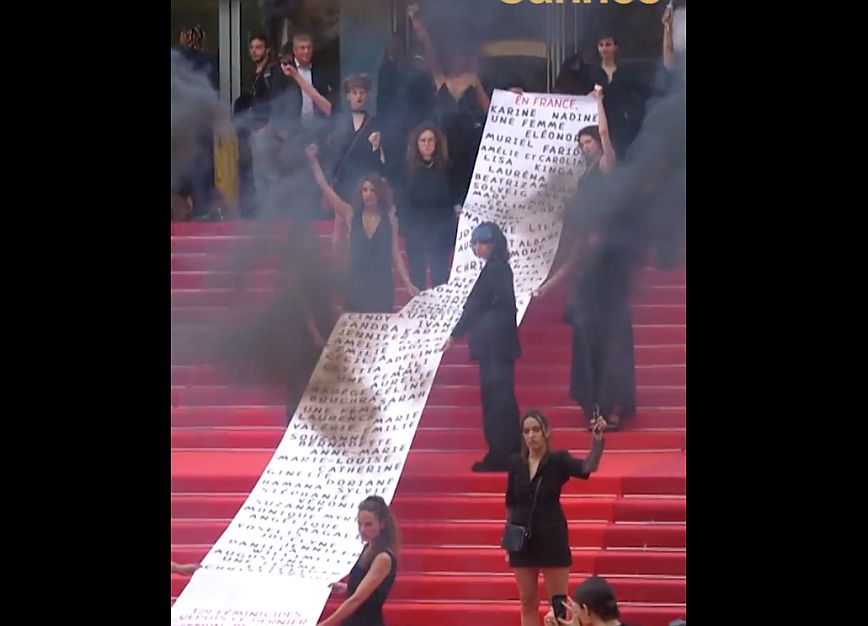 A huge banner with the names of the women who were murdered in France was hung today on the red carpet in Cannes by the members of a feminist collective, the "posters" on the occasion of the screening of a documentary about the murders of women.
Angelique, Evelyn, Sophia, Nadia, a woman of unknown identity… The names of the 129 victims "from the previous Cannes Film Festival", in July 2021, were written on this banner. The black-clad activists then posed, raised their fists and lit smoke bombs, drowning Croisette in black smoke.
The scene was captured by photographer Raymond Depardieu, whose son, Simon, in collaboration with Marie Perenes, shot the documentary "Riposte féministe". In this film, she watches activists hang messages on walls, often at night, to denounce gender-based violence, street harassment and support for victims of sexual crimes.
Before the screening of the documentary, the "poster women" raised their fists once again, when the director called them by their names.
On Friday, another activist, who wanted to denounce the rapes in Ukraine by the Russians, appeared on the red carpet topless, with blood stains on her underwear. The responsibility for this "invasion" was then taken over via Twiiter by the Scum movement, which identifies itself as a "radical" feminist organization.
Source: News Beast