When a pet is lost and impossible to locate, we give up all hope of seeing it again. However, the world is full of surprises and sooner or later we may find them on our way. This happened to a family that was reunited with their cat 10 years after it went missing.
The events occurred in Scotland and are already traveling the world, bringing hope to those animal lovers who continue to search for their lost pets.
An unexpected goodbye
In 2011, Lucy and Neil reported the disappearance of their cat Forbes in Scotland. This one had a GPS microchip to track it, but it apparently got damaged. But their owners did not give up and stuck hundreds of signs in the streets, raised notifications in police stations and animal protection associations, but the kitten did not return home, this brought pain and, over time, the resignation of never see him again.
When Forbes first disappeared in March 2011, we were very distraught. We had him since he was a kitten, we formed a special bond. He was a unique and friendly character. We absolutely adore it.

As soon as it got lost we put up signs, went door to door and asked the police and animal protection associations for help. After eight or nine months, we had to realize that the worst could have happened.
A magical reunion!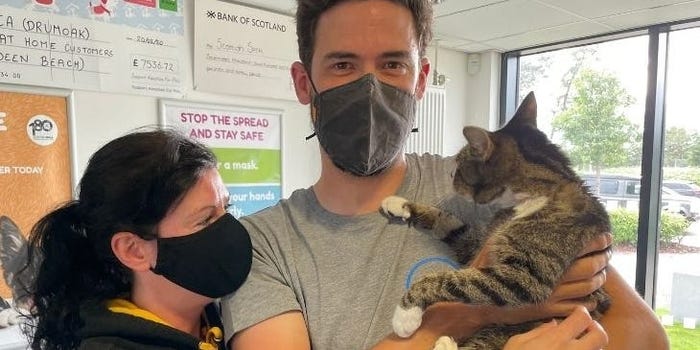 Yet 10 years after that intensive search, Forbes appeared safe and sound. The Scottish Society for the Prevention of Cruelty to Animals (SPCA) received an anonymous report about the constant appearance of a cat two miles from where Forbes' disappearance was reported in 2011.
Specialist members of the SPCA went to the place, captured the kitten and after a veterinary examination they noticed that it had a microchip, which when scanned revealed the address and telephone number of its owners, who were notified immediately. When they arrived at the place they recognized Forbes, they were surprised to find him after so many years and they were happy to have him back in their lives.
Now the family is reunited again. Lucy and Neil have vowed to take better care of Forbes so that he doesn't run away from home again. On the other hand, the pussycat's vet says that his health is perfect and mentions that he was possibly cared for by another family during all these years.