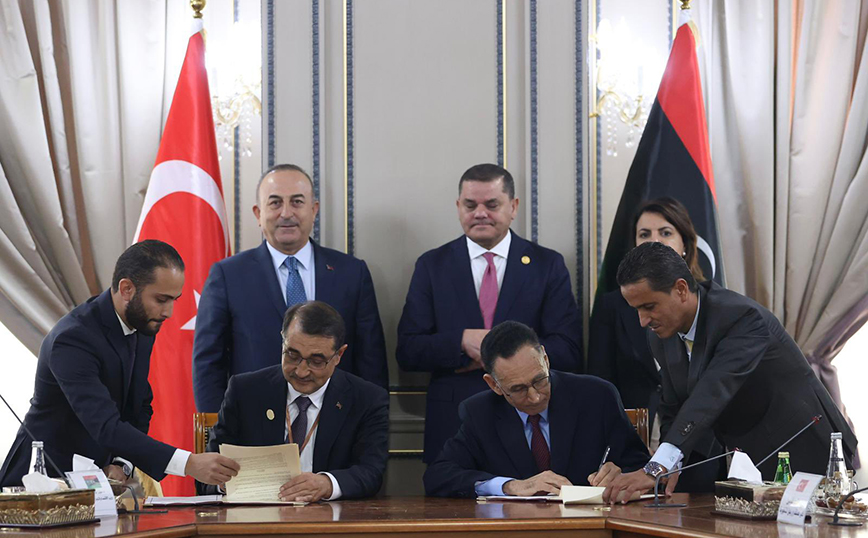 The Turkish Foreign Minister, Mevlut Cavusoglu, signed agreements with Libya for hydrocarbons.
Cavusoglu in his speech confirmed the signing of an agreement for offshore and onshore exploration and drilling between Turkish and Libyan companies.
"We discussed the steps towards a political solution and our relations with Prime Minister Dibeba. We signed Memoranda of Understanding in the fields of Hydrocarbons and the Protocol" announced the Turkish Foreign Minister.
At the same time, he noted that all "littoral countries" should benefit equally from the Mediterranean.
"We are also working for THY to start flights again. We welcome the steps taken by the Libyan side regarding the necessary measures at the airports," added Cavusoglu.
Greece is closely monitoring the allegedly pregnant Turkey-Libya deal
The question of the alleged pregnant agreement Turkey – Libya regarding the exploitation of Libyan energy imgs by Turkey, is closely monitored, diplomatic imgs report and note that there will be an official statement, as long as there is an agreement and information regarding its content.
The same imgs underline that respecting the Greece-Egypt agreement on the delimitation of the EEZ of 2020 is absolutely vital.
"It will not be allowed to be violated and the ignition of another hotbed of tension in the Mediterranean", they emphasize according to the Athens News Agency.
In any case, Greece will defend its sovereignty and sovereign rights on the basis of International Law and especially the International Law of the Sea.
The Ministry of Foreign Affairs is informing allies and partners, the same imgs underline.

Source: News Beast