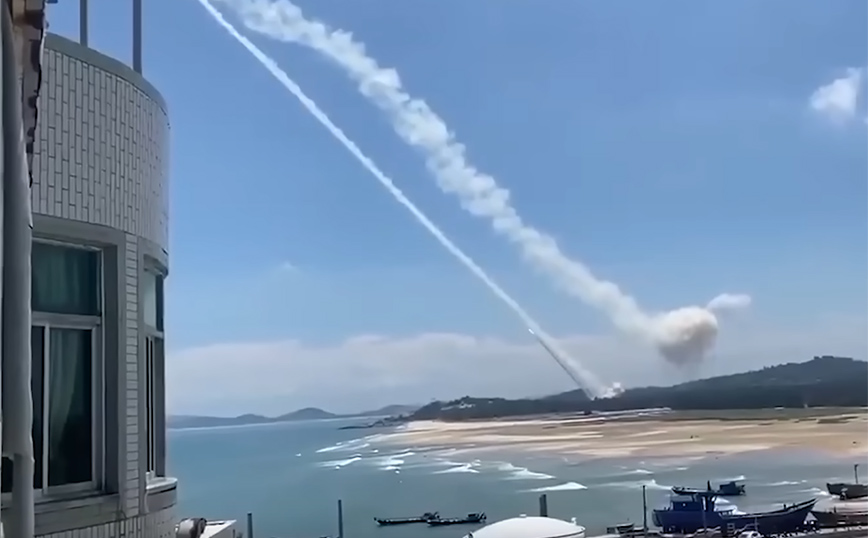 Chinese missiles flew over Taiwan during the large-scale military exercises in response to the visit of the speaker of the US House of Representatives Nancy Pelosi, Chinese state media reported today. Pelosi drew the ire of Beijing by traveling to the island, where she spent the night Tuesday into Wednesday. She is the highest-ranking US official to travel to Taiwan in 25 years.
China, which considers Taiwan an integral part of its territory, launched the largest military training exercises in its history around the island in six sectors on Thursday in retaliation.
China's military and government have yet to officially confirm the missile overshoot during the high schools, while Taiwanese authorities also refuse to confirm it.
However, the Ministry of Defense in Taipei announced today that Chinese "aircraft and warships" crossed the "median line" of the Strait Taiwan, which separates the island from mainland China. The ministry denounced the "extremely challenging" Chinese high schools.
However, Japan's defense ministry said that of the nine missiles it detected, four "flew over the main island of Taiwan", as reported by AFP and relayed by the Athenian News Agency.
"Our high schools, this time, included real fire, and it was the first time (missiles) flew over Taiwan," Meng Xiangqing, a professor at the School of National Defense, a higher education system linked to China, told CCTV. with the People's Liberation Army.
He praised the capabilities of the Chinese military, noting that the missiles penetrated part of the airspace where Patriot arrays — a mobile anti-aircraft missile system considered a critical element of Taiwan's defense against China — are deployed.
The ongoing drills are taking place closer than ever to Taiwan and for the first time the island is surrounded by Chinese armed forces, he added.
According to China's official News Agency Chinathey flew "over 100 military aircraft, including fighters and bombers" and deployed "over 10 destroyers and frigates" just yesterday.
The Chinese air drills are expected to last until Sunday noon (local time; 07:00 GMT), as China has so far defied strong protests from the US, the EU and others.
Source: News Beast