China shipped 329.3 million smartphones in 2021, according to analyst firm IDC. This is 1.1% more than in 2020. At the same time, growth was observed in the first quarter against the backdrop of pandemic-related demand stimulus programs, but in the following quarters it turned into a recession. Analysts cited component supply issues that limited supply and lower-than-expected demand for mid-range and high-end smartphones as reasons for the downturn.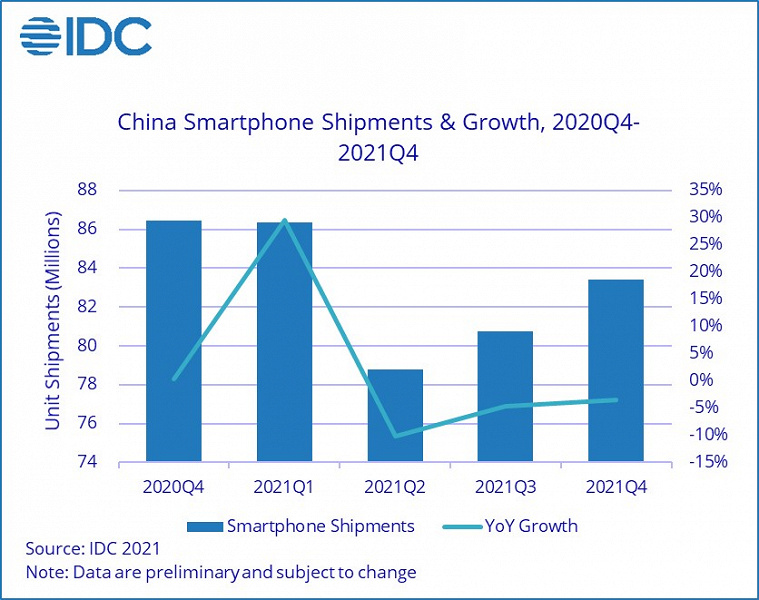 Vivo has been named the leader of the Chinese smartphone market. During the year, it was able to increase sales by 23.3%, as a result of which its share increased from 17.7% to 22.5%.
The second place is occupied by Oppo. She was able to increase sales by 18.3% in a year. Oppo's share increased from 17.4% to 20.4%.
In third place is Xiaomi. It increased sales by 31.0%. The share of Xiaomi increased from 12.0% to 15.5%.
Apple, which is the best in the top five in this indicator, increased sales even more. A 39.5% increase in sales led to an increase in its share from 11.1% to 15.3%.
The top five is closed by Honor, which increased sales by 4.9%. The result was an increase in its share from 11.3% to 11.7%.