- Article Top Advertisement -
Dust clouds covered cities in the interior of São Paulo between Friday (11) and this Saturday (12). The situation was reported in cities such as Araraquara, Morro Agudo and Viradouro. According to Climatempo, these sandstorms are common in arid and semi-arid regions and the phenomenon may recur in the coming days.
According to the weather services company, the dust in the sky is usually caused by increased wind speeds over a wide area before strong storms, like the ones that occurred on Friday in some of the affected locations. With the wind, a large amount of dust is raised, invading the sky.
- Article Inline Advertisement 1-
In addition, the approximation of squall lines and strong pressure variations associated with frontal systems and cyclones, which can be extratropical, tropical and subtropical, are also capable of causing the phenomenon.
On the weekend, on Monday (14), and on the holiday of the Proclamation of the Republic, on November 15, the weather forecast for the region is for heavy rains, with sudden flooding. Therefore, it may be that new sandstorms occur before the rain arrives.
"These heavy rain clouds, with lightning, are the Cumulonimbus [nuvens em formato vertical com grande capacidade de chuva] and many will form over the entire state of São Paulo in the days that follow and on the weekend. It is very common for strong wind to occur when they are around. And the occurrence of hail cannot be ruled out either," Climatempo said in a statement.
The instability, says Climatempo, advanced from Mato Grosso do Sul to São Paulo and caused, earlier in the day, rain in areas of the center-west and northwest of São Paulo.
As this line advanced, wind gusts of 41km/h were recorded in São José do Rio Preto (airport data), which caused dust to rise and reduced visibility at the local airport. In this case, there was no sandstorm, according to Climatempo, but movement of dust.
Source: CNN Brasil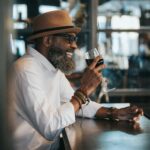 - Article Bottom Advertisement -