At the end of last week, the media reported, citing their sources, that the first bitcoin ETF futures will appear on the US market on Monday.
The market reacted positively to such messages, and the leading digital currency began to rise in price. The BTC rate on Monday, October 18, reached $ 62,200. Bitcoin capitalization is smoothly approaching $ 1.2 trillion.
Institutional investors should become key beneficiaries of the legalization of a Bitcoin ETF-focused futures product.
On the Chicago Exchange (CME), open interest in bitcoin futures has reached a new high. The value of all contracts last Friday approached $ 3.7 billion.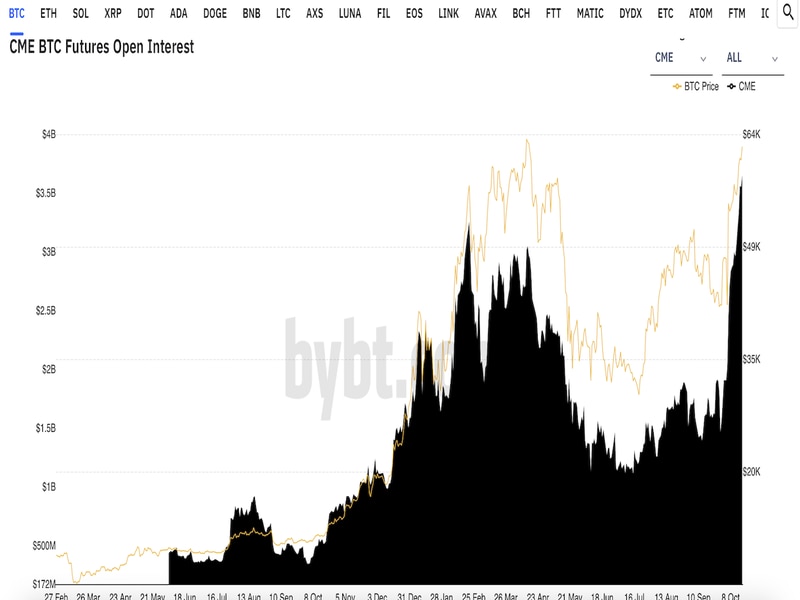 According to ByBt, the previous record was recorded in February. The surge in activity in the futures market is a direct result of rumors about preparations for a new product launch, said Martha Reyes, head of research at Pequant.
The expert noted:
US financial institutions are fueling the October rally, as evidenced by the activity of users of the CME exchange. Speculation about the upcoming ETF futures launch last week spurred the market.
At the moment, the Chicago Stock Exchange ranks second after Binance in terms of the amount of contracts deployed in the futures market.
Stay in touch! Subscribe to World Stock Market in Telegram.