The Huobi Exchange has been severely affected by the actions of the Chinese authorities. On Sunday, 440,000 ETH were withdrawn from the exchange, and the market capitalization of Huobi Token (HT) in free float fell by $ 1 billion.
According to a report by CoinMetrics, during the week of September 20-27, the market capitalization of Bitcoin and Ether declined by 9.8% and 13.7%, respectively. The main reason is that last Friday the People's Bank of China issued a circular expanding the ban on cryptocurrency transactions for businesses and recognizing them as illegal financial activities.
After the ban, the number of active Bitcoin addresses fell by 7.7%, and Ethereum – by 5.8%. In addition, amid new comments on the regulation of cryptoassets by the US Securities and Exchange Commission (SEC), the use of stable cryptocurrencies has also decreased over the past week. At the same time, the tokens of the DeFi protocols did not suffer and even benefited from the current situation.
At the beginning of the week, it became known that the price of DeFi tokens is growing amid new bans in China. CoinMetrics analysts have confirmed this data using the example of the Uniswap protocol token (UNI). Over the past week, the number of transactions with UNI has grown by 11%, while for BTC, ETH and USDC this indicator has decreased by 2.9%, 2.8% and 5.2%, respectively.
Source: CoinMetrics Network Data Pro
The new round of China's prohibitive policies hit the Chinese exchanges Huobi and OKEx the hardest, as investors rushed out of the market to avoid government reprisals. On Sunday, Huobi said it would stop serving Chinese users by the end of the year and blocked registrations for Chinese customers.
According to CoinMetrics, on September 26, the net outflow of ETH from the Huobi exchange reached 440,000 ETH ($ 1.34 billion) – a record in the entire history of the site.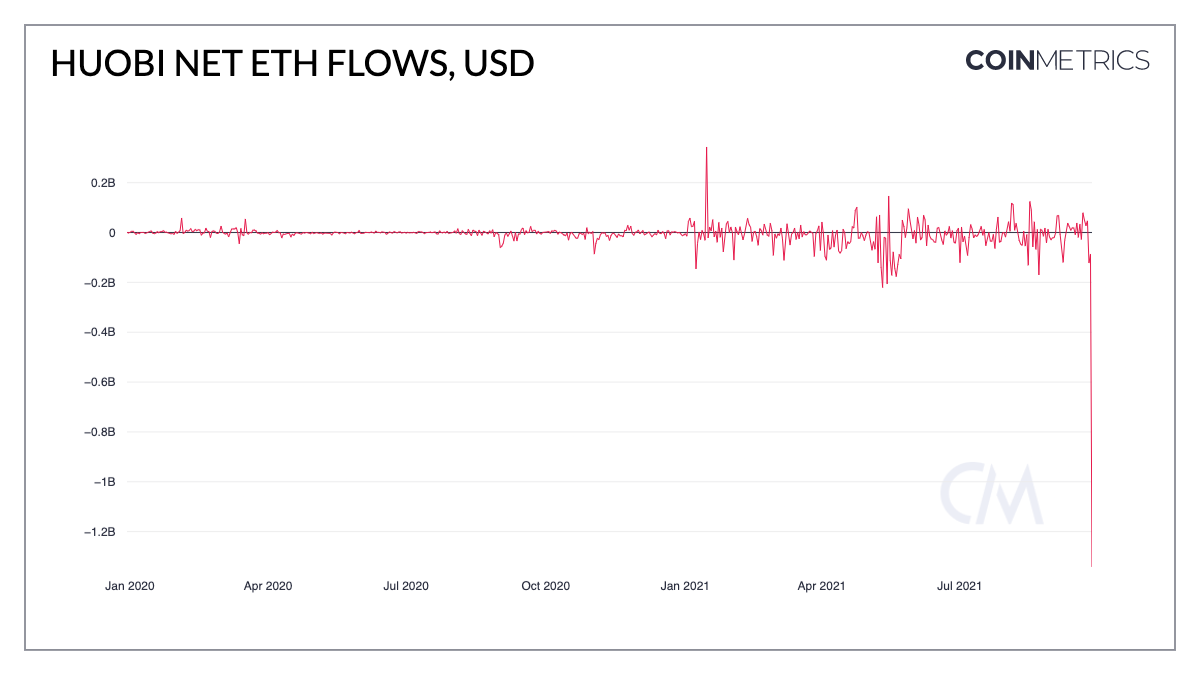 Источник: CoinMetrics Network Data Charts
Huobi currently holds 791,000 ETH ($ 2.4 billion) and 107,000 BTC ($ 4.6 billion), although both have been declining since March 2020.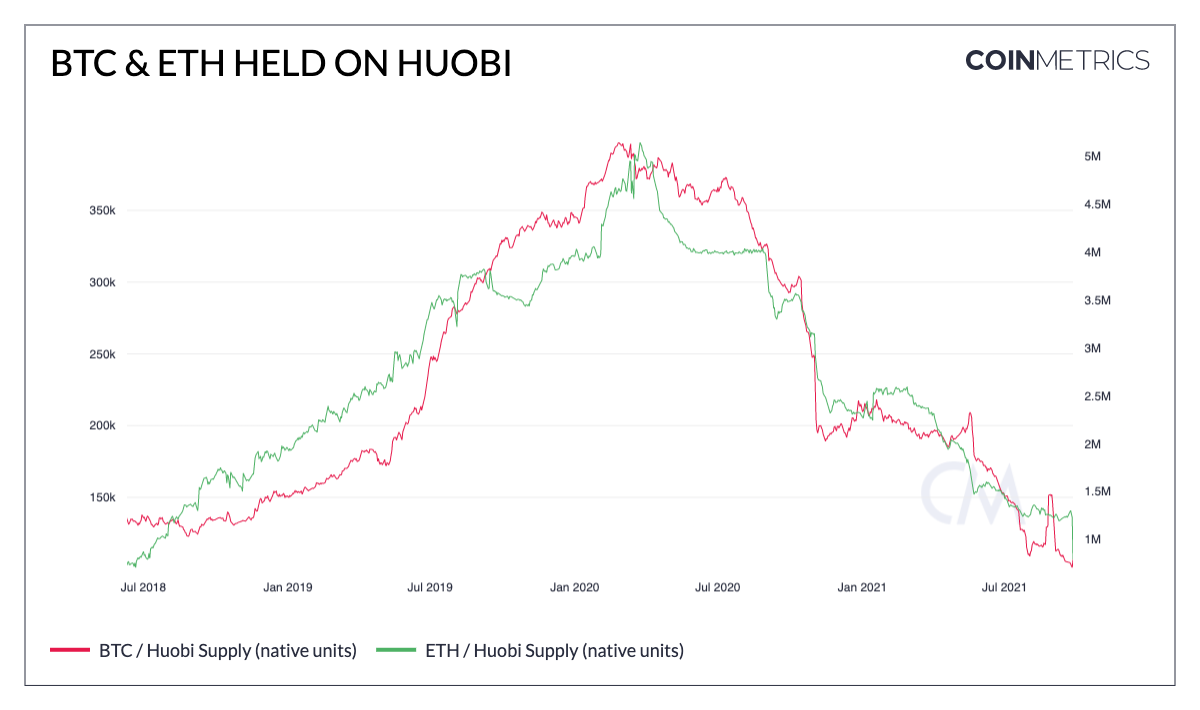 Источник: CoinMetrics Network Data Charts
Following the news, the free float of Huobi Token (HT )'s market capitalization fell by nearly $ 1 billion, currently hovering around $ 1.2 billion from $ 6.8 billion as of May 12.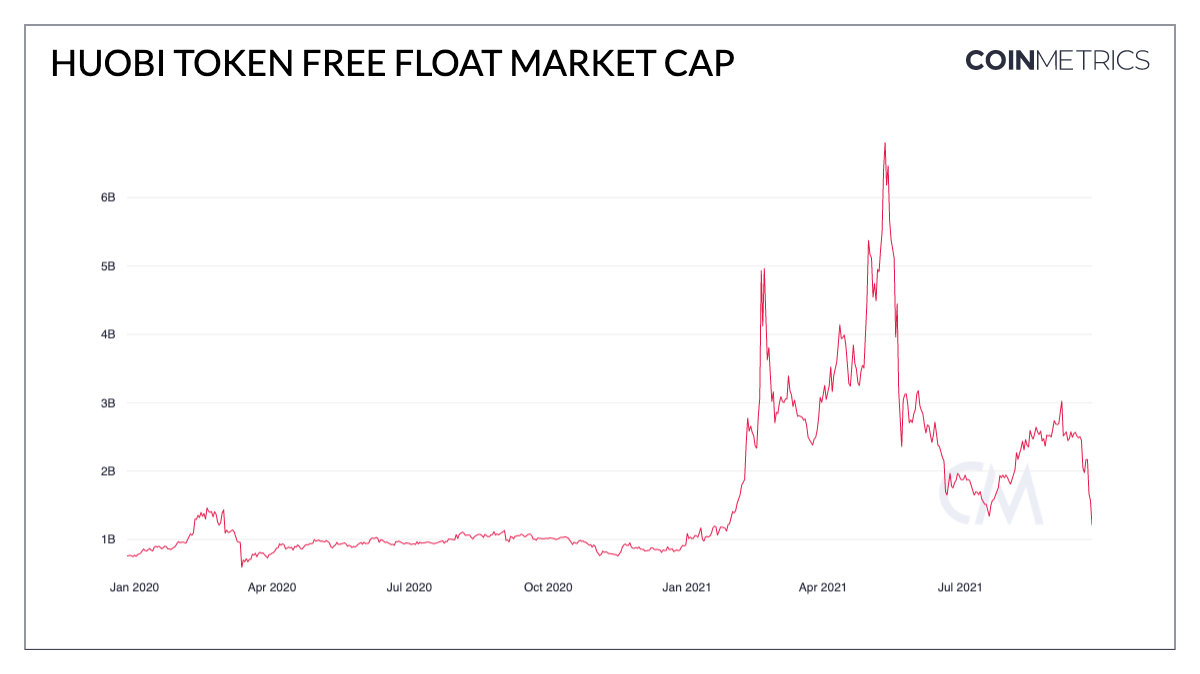 Источник: CoinMetrics Network Data Charts
On Sunday, Chinese mining pool Sparkpool announced it would block Chinese miners and cease operations on September 30th. Ethereum hashrate climbed to new all-time highs this month, fueled by high transaction fees due to the NFT boom. While the closure of Sparkpool and other pools could cause a short-term drop in hash rates, CoinMetrics analysts said the hashing power is now more than enough to keep the Ethereum network secure.