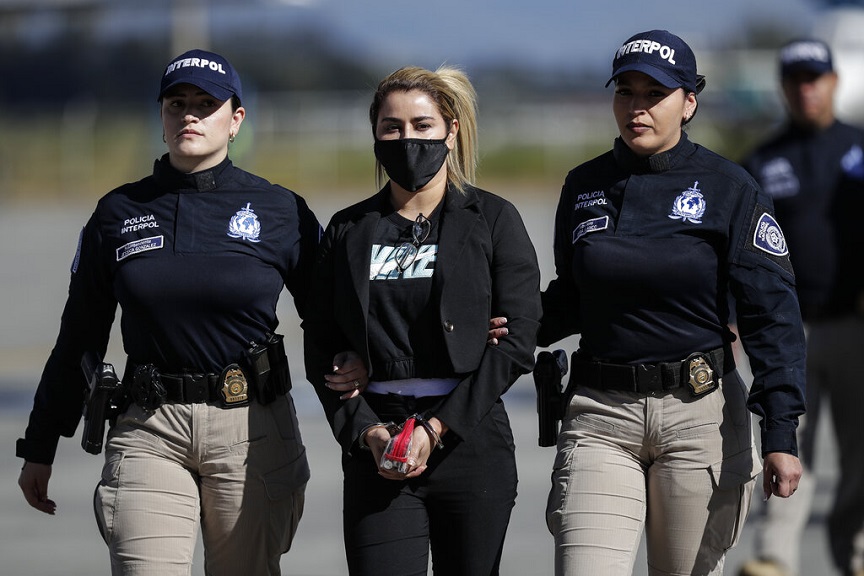 Its principles Colombia issued on USA sister of the infamous baron of drugs Dairo Antonio Usuga, also known as Otoniel, as he was allegedly involved in drug trafficking, police said.
Nini Joana Usuga David, 39, is accused of playing a role in the drug-laundering of the Clan del Golfo and of handling international relations with cartels in other countries, particularly in Mexico, coordinating transfers. Also known as "La Negra", she was considered by the authorities to be one of the most violent and ruthless members of the cartel, while according to the country's president Ivan Duque, who is preparing to leave, she is one of the few people the "capo" trusted .
Her brother, the leader of the Clan del Golfo, was extradited in early May to the US to stand trial mainly for trafficking huge amounts of cocaine. He pleaded not guilty at the first hearing in New York federal court.
According to Colombian authorities, Otoniel, 50, is responsible for the deaths of hundreds of members of the country's security forces.
In addition to Nini Joanna Usuga, six other drug-trafficking suspects were extradited to the US.
Although extradition to other countries was abolished in 1991 in Colombia, Congress reinstated the practice six years later. Authorities consider it one of the key tools in their arsenal to combat drug trafficking.
Otoniel, who according to Bogota trafficked between 180 and 200 tons of cocaine a year, was arrested in a large-scale operation in October in the province of Antioquia.
His gang, which has about 1,200 fighters according to army intelligence, has declared an "armed strike" to protest his extradition process, paralyzing parts of the country.
Also yesterday, Defense Minister Diego Molano announced that the armed forces and police forces of more than 40 countries cooperated to seize 169 tons of cocaine and 41 tons of marijuana during the nine months of the Orion international operation against drug trafficking.
In total, including the most recent findings – from March 2021 to May 2022 –, 716 tons of cocaine and 216 tons of marijuana have been detected and seized since 2018, according to Bogotá.
Drug trafficking and the so-called war on drugs play a central role in the civil armed conflict in the Latin American country, the Truth Commission set up in 2016 as part of the peace deal with the former rebel group Revolutionary Armed Forces highlighted in a report this week. Forces of Colombia (FARC).
Source: News Beast