Color Redroad V17 and received a valuable prize as a gift: a very unusual creative competition was launched in Russia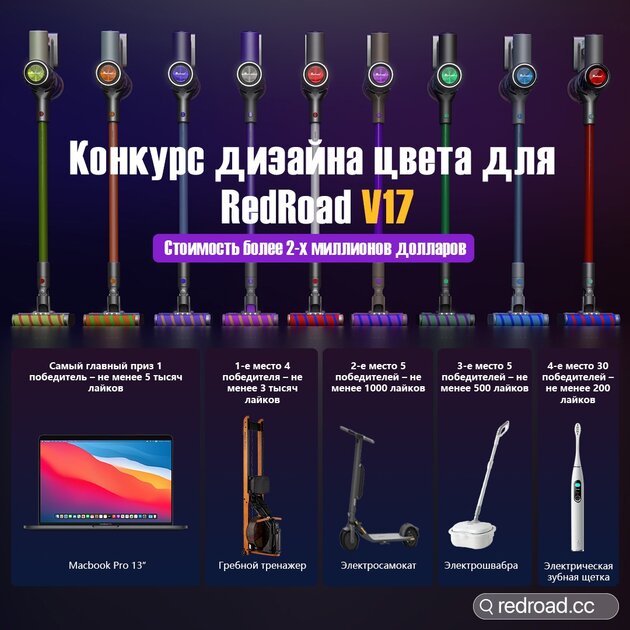 Some time ago, the Asian smart home appliance brand Redroad launched in Russia a rather interesting competition associated with the advanced Redroad V17 vacuum cleaner. The competition was named Color Match Competition and, as you can guess from the name, the participants of the competition (anyone can take part for free) can create the most attractive vacuum cleaner on the official website from October 13 to October 27, using their rich imagination and impressive color palette. There are so many color options that users can really create something amazing.
More about Redroad V17 Official site
Bonus Coupon: $ 50 OFF: V1750RU
Features of Redroad V17:
omnidirectional double roller brush for more efficient cleaning;
double HEPA filter for air purification from dirt and dust;
9-stage Mantolo noise reduction system – at maximum load, the noise level is only 60 dB;
an impressive arsenal of various accessories;
high power of garbage suction;
capacious battery with a decent battery life;
2 years official manufacturer's warranty.
Accordingly, participants in the competition for the most attractive design of the Redroad V17 vacuum cleaner can receive quite valuable prizes – a MacBook 13 laptop, for example, or the Redroad V17 vacuum cleaner itself from a limited edition, and among the prizes there is a Mobi rowing machine, scooters, vacuum cleaners for wet and dry cleaning Redkey W12, the Oclean X Pro Elite electric toothbrush and many other pleasant bonuses. A great opportunity to show your imagination and show your own taste, while having every chance to get a nice prize with almost no effort.
Almost all modern household appliances are rather boring and gray in terms of the color palette – manufacturers adhere to conservative views, unifying the palette of their new products. Redroad believes that potential buyers sometimes just need to get more opportunities to fulfill their fantasy, and this competition is a prime example of how this leads to overwhelming results.