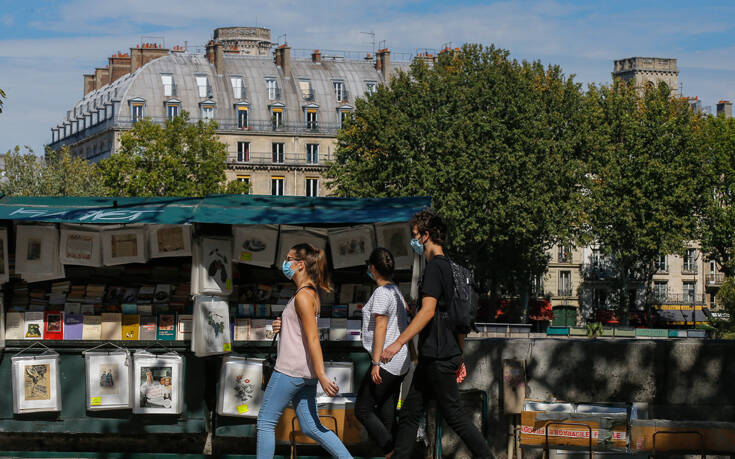 The seventh wave of the Covid-19 epidemic accelerates to France and the recommendations for resetting the protection maskespecially in the means of transport, are multiplied by the government, without any certainty that this would be sufficient, together with the vaccinationto stop the transmission.
At the beginning of this summer, there is again explosion of cases. More than 147,000 cases were reported last night, Tuesday night, by the French public health service, 54% more than a week ago and the highest level since the end of April.
This strong increase, which is associated with the emergence of new highly contagious sub-variants Ομικρον capable of bypassing the immune defenses, is generally observed throughout Europe.
Most of the restrictions began to be lifted in mid-March. However, yesterday, Tuesday, French Prime Minister Elizabeth Bourne asked the prefects and health authorities encourage the use of protective masks "in congested areas" and "indoors", in particular "in public transport"where from May 16 is no longer mandatory.
So far, these are "recommendations" without a mandatory character.
Bourne also called for "the proliferation of prevention messages," he said "Ventilate indoors regularly", "To be done diagnostic tests as soon as the first symptoms appear and people are immediately isolated in case they are diagnosed positive ".
According to the APE-MPE, as the first departures of citizens for holidays have begun, the president and CEO of the French railway company SNCF Jean-Pierre Farado invited the travelers to wear the mask again at stations and inside trains "Feeling their responsibility as citizens". "We have to protect our staff, we have to protect our travelers," he said.
The big question is, as always, whether the increase in infections will translate into an increase in hospitalizations.
In South Africa and to a lesser extent in Portugalwhich have already crossed the wave, the impact on hospitals was more limited than during the previous waves.
In France, 15,496 people were treated yesterday, Tuesday, with Covid, of which 898 in intensive care units.
Experts insist on booster doses of vaccines
In the face of rising cases, governments and scientists are insisting on booster doses of vaccines.
Although protection against vaccines decreases over time against infection, they remain effective against the risk of developing serious forms of the disease.
Yesterday, the Prime Minister asked the citizens "to check their vaccination program individually", especially those over 60 years old and the most vulnerable.
Only a quarter of those entitled to it have taken a second bailout against Covid, a "clearly insufficient" percentage, the government announced last week.
"The recommendation for the third dose was made in April, when the virus began to be reduced. "Now that there is a significant increase, I believe that the population over the age of 60 understands well that they should not let more than six months pass after the last memorial service," said Anne-Claude Cremier, an infectious disease specialist at St. Louis Hospital in Paris.
Source: News Beast