Coronavirus – German health minister: "At the end of winter almost everyone will be vaccinated, cured or dead"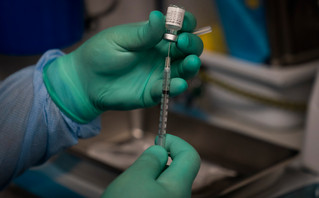 His concern about course of the coronavirus pandemic in Germany "Probably at the end of this winter – this sounds cynical – almost every German will be vaccinated, cured or dead," he said. But that's the way it is "
«Immunity is always achieved, the question is whether it happens through vaccination or infectionSaid on Monday (22/11) the German Minister of Health and warned that the risk of infecting someone who has not been vaccinated, especially with Delta mutation is huge.
THE Jens Span, as broadcast by the Athens News Agency, however, assured that there is sufficient vaccines and apologized for the confusion caused by the news that Moderna vaccines are being promoted for the booster dose, because they are approaching their expiration date.
"Demand for vaccination has increased in recent days"
According to Mr. Span, in recent days the demand for vaccination has increased significantly, but he stressed that he does not believe that a mandatory vaccination would help at this time. "Keeping a distance and reducing contact is helping at the moment," he said, describing the Covid-19 vaccination as a "moral obligation of solidarity".
Regarding the problem that has arisen around whether the boost dose can be done with the formulation of BioNTech / Pfizer or should be done with that of Moderna, which expires in mid-February, Jens Span stressed that "we do not keep no vaccine ", while assuring that the two vaccines are almost identical. "Some doctors even say that BioNTech vaccine is the Mercedes vaccine against Covid-19 and Moderna vaccine is Rolls Royce", He added characteristically.
However, according to the newspaper Bild, BioNTech is preparing to deliver an additional 10 million installments in Germany.