New data on coronavirus in India released by a revealing study conducted by American scientists.
The number of people killed in India due to Covid-19 could be 10 times higher than the official death toll of 415,000, which would make the pandemic the worst humanitarian crisis in the world. India since its independence.
Experts dealing with the epidemiological situation in India have long warned that the report is highly underestimated in this country of 1.3 billion inhabitants. However, the Center for Global Development estimate is the highest ever. It takes into account the dramatic epidemic outbreak recorded in April and May due to the highly contagious Delta strain.
According to the study, which covers the period from the beginning of the epidemic last year to this year in June, between 3.4 and 4.7 million people have succumbed to the coronavirus during this period.
"The actual death toll is probably in the order of millions, not hundreds of thousands, which in fact makes it the worst human tragedy in India since division and independence," the researchers said, according to the Athens News Agency.
Following the split between India, which is predominantly Hindu, and Pakistan, which is predominantly Muslim, in 1947, interfaith clashes sparked hundreds of thousands of the dead. Some even put the death toll at two million.
Officially, India has recorded just over 414,000 deaths due to Covid-19, which is the third highest account in the world after the USA (609,000) and Brazil (542,000).
Experts do not attribute the underestimation of the official report in India to a deliberate cover-up but to the shortcomings of the domestic health system.
Many Indian states have revised up their accounts in recent weeks to increase their accounts.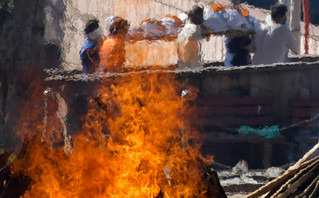 The study by the Center for Global Development is based on an estimate of "excessive mortality", ie a comparison between the current number of deaths and that before the pandemic.
The authors – including Arvid Supramanian, a former financial adviser to the Indian government and also a Harvard expert – focused on state-specific death records and official national studies.