"One of the worst failures of the public health sector in BritainWas characterized as the management of his pandemic coronavirus by the British Government in a report – collapse of parliamentary committees.
The report, drafted by two parliamentary committees after two months of hearings, states, according to APE-MPE, that the government of Boris Johnson, with the support of its scientific advisers, "deliberately" adopted a "gradual and progressive approach". instead of taking more drastic measures to address the pandemic.
Downing Street initially sought to control the covid-19 epidemic and achieve collective immunity through the disease, which led to the country having one of the highest death tolls in Europe, more than 150,000 so far, the report said. .
Until March 23, ministers "were only trying to limit the spread" of the epidemic to the population, instead of stopping it completely "due to official scientific recommendations".
Scientists advising Johnson's government unanimously agreed on March 13 that "measures aimed at stopping the spread of covid-19 completely will trigger a second peak" of the pandemic.
Coronavirus: "It took time for them to understand that a complete lockdown was necessary"
It is "amazing" that it took them so long to realize that a full lockdown was necessary, MEPs said in their report, despite the fact that it had solid evidence, such as a forecast model of Imperial College London, which showed that if not stopped the spread of covid-19 the death toll could reach 500,000.
"The decisions concerning the lockdown and social alienation in the first weeks of the pandemic – and the recommendations that led to it—are one of the biggest public health failures Britain has ever experienced ", underlined in the report.
The measures that had no scientific basis
At the same time, the members of the two parliamentary committees are criticizing the decision of the British government not to perform diagnostic tests on the elderly who were discharged from hospitals before returning to nursing homes and point out that some measures – such as the closure of pubs at 22:00, the ban on children's sports in the countryside- had no scientific basis.
"Britain's response is a mixture of big mistakes and big successes," said Greg Clark and Jeremy Hunt, co-chairs of the two committees that drafted the report. "It is vital that we learn from both," they say.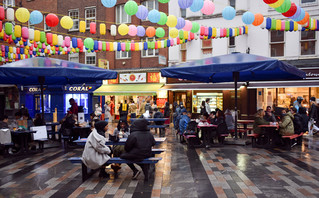 A government spokesman said Downing Street had learned from the pandemic and added that a full, public inquiry would be conducted next year.
"We have never avoided taking swift and decisive action to save lives and protect the National Health System, including restrictions and lockdowns," he said.
It is noted that a few days ago the Guardian revealed that senior health officials in Britain preparing for a possible "hit" of someonecoronavirus in the country, have been warning since February 2016 about the need for personal protection stocks, the existence of a computerized contact detection system and control for foreign travelers.