When the authorities on USA announced compulsory vaccination against coronavirus for those working in federal agencies and businesses, some had predicted a wave of layoffs or resignations that would hit the fragile economic recovery. However. None of this happened and the compulsory vaccination, a measure which was repeated yesterday Thursday (4/11) by the president Joe Biden, seems to bear fruit.
With the exception of some resistance pockets, large numbers of Americans who were just late or hesitant were eventually vaccinated against covid-19. "The decrees, so far, seem to have been the most effective measure we have to persuade those who are reluctant to be vaccinated," he said. Bradley Pollock, Professor of Public Health at the University of California, Davis.
In early November, more than 58% of Americans were fully immunized against covid-19, up from about 50% in August when the mandatory vaccination measure was first announced.
Coronavirus – USA: In which sectors was vaccination launched?
The US federal government decided yesterday that the tens of millions of Americans affected by the measure should have received the final dose of a covid-19 vaccine by January 4, 2022. Otherwise will undergo a coronavirus test at least once a week. The measure applies to all employees in companies employing more than 100 people, health workers and all those working for the federal government.
"Vaccination is the best way out of this pandemic," Biden said in a statement.
In total, more than two-thirds of American workers are now required to be vaccinated against covid-19.
Moreover, many private companies, such as United Airlines, have already required their employees to be vaccinated. The airline warned its 67,000 employees that they would be laid off if they were not immunized against covid-19. Until yesterday Thursday only 2,000 of them had asked to be excluded from vaccination for medical or religious reasons and most others were vaccinated.
The giant meat industry Tyson Foods, whose activities were severely affected at the beginning of the pandemic, asked its 120,000 employees to be vaccinated by November 1st. From less than 50% at the beginning of August, the vaccination rate in the company exceeded 96% yesterday, according to the New York Times.
THE US Army also adopted a very strict policy on the subject and has succeeded 95% vaccination coverage in his ranks.
The vast majority of workers approve of this obligation, according to the largest US trade union AFL-CIO, which welcomed "a step in the right direction".
Firefighters and police are reacting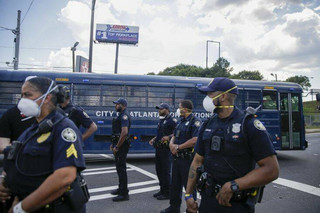 Some sectors are still resisting, often rejecting the obligation rather than the vaccine itself, according to the APE-MPE. This is what happens to them firefighters, with the percentage of vaccinated in their classes being often below average.
The Los Angeles County Sheriff noted that only 43% of his police officers have been vaccinated against covid-19. The sheriff Alex Vilanueva called on the county to lift the mandatory vaccination, saying it "damages the ability to ensure public order".
In Chicago, thousands of police officers are in danger of being on forced leave.
In New York, half of all city employees who asked to be exempted from vaccination for religious or medical reasons were police officers. However, no major religion forbids its followers to be vaccinated against covid-19.
THE Caleb Messi, who works at NASA, was one of dozens of protesters who protested this week in front of the Jet Propulsion Laboratory near Los Angeles. Like other federal officials, he risks being fired if he does not present a vaccination certificate by December 8. He has asked to be expelled for religious reasons, however states he is ready to lose his job. "I swear to you that I will never be vaccinated," he said.
Many Republicans, most of them Republicans, have called for compulsory vaccination, arguing that it violates individual freedoms and calls it a "dictatorship," while some US states, such as Texas, have banned compulsory vaccination.
More than 750,000 people have died from covid-19 in the United States so far.