Death dive for mother from 25 meters – She wanted to fall but bungee jumping and the rope could not stand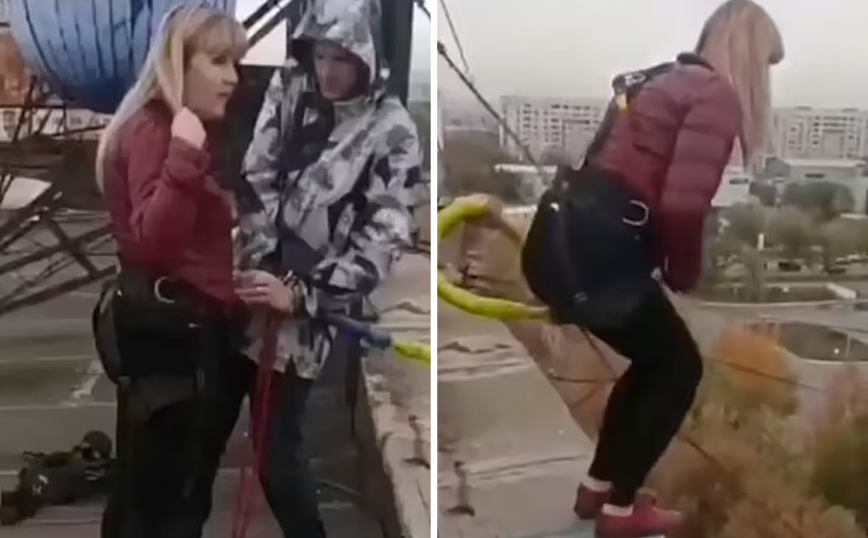 Breathtaking scenes were recorded on video at Kazakhstan when a woman's attempt to make a high jump bungee jumping went terribly wrong.
The video shows Gevgenia Leontieva, 33, calmly climbing on the edge of a hotel roof in Karaganda, Kazakhstan. Immediately afterwards, a man appears to be tying her with the appropriate equipment, however, it seems that the mother of three children rushed to jump before he secured the rope that would hold her.
Result her fall from 25 meters to be severe and leave her with multiple severe fractures and a hematoma.
Screams are heard from the spectators on the roof and the observers while they see the hasty movements of the woman while seconds later they anxiously ask for help.
The woman was rushed to hospital where she underwent surgery for serious head injuries, but died shortly afterwards.
What led to the accident
According to eyewitnesses, the person in charge of the safety of the equipment should have tied the ropes that would have held the 33-year-old on her and the opposite tree which would have actually held her weight.
A strap to which her rope was attached, and which had to hold her fall by letting it "float" over the ground, failed to hold or was not yet sufficiently secured.
Before the tragic jump, Leontieva and her boyfriend had posted messages on social media stating that "they are living it" and that "we are going to fly".
The woman had three boys under the age of 14, two of her own, and a son of a deceased relative. Many locals were preparing to make similar extreme jumps on Sunday.
"The patient underwent surgery," said a local health spokesman. "Despite our best efforts, the patient died."
The incident is being investigated for "negligence" of the jump organizers.
The maximum possible punishment is a 40-day imprisonment.