Its agreement with Rwanda to activate the controversial transfer plan in the African country refugees who are seeking asylum, Denmark announced, which is causing intense concern in Europe.
In April, the United Kingdom announced a similar agreement with Rwandaalthough no refugee transfers have yet taken place, as there have been legal appeals by refugee rights organisations.
Copenhagen and Kigali signed a bilateral cooperation agreement, which foresees the start "a program under which asylum seekers arriving in Denmark will be able to be transferred to Rwanda while their application file is being examined"according to a press release from the Danish Ministry of Foreign Affairs.
The plan also provides for "the option of settling in Rwanda," Copenhagen added.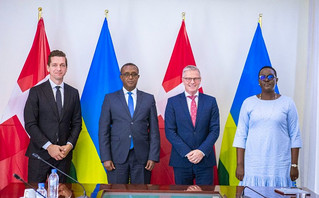 Danish Integration Minister Kaar Diebvand Beck said he was "very happy" about the agreement, which is the fruit of talks that began more than a year ago.
Known for one of the harshest immigration policies in Europe, the Nordic country adopted a law in July 2021 allowing asylum seekers to be transferred outside the continent.
The Copenhagen plan provides that asylum seekers will be able to apply for asylum in person when they arrive at Danish border checkpoints before being flown to a reception center in another country.
Its social democratic government Denmark has announced that it is holding talks on this with other states as well. Publications refer to Egypt, Eritrea, Ethiopia, but contacts with Rwanda are the most advanced.
The European Commission distanced itself, judging that the plan "raises fundamental questions regarding both access to asylum procedures and access to protection" of refugees. It also stated that it reserves the right to take legal measures in case of implementation.
The agreement between London and Rwanda is the subject of appeals in the British courts.
Refugees and rights groups in Denmark also plan to take legal action against the plan.
Source: News Beast