As of tonight, France bans travelers from Great Britain. The Omicron mutation gives a "strong blow" to tourism and catering.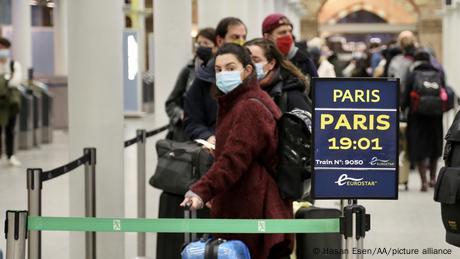 The countdown for the British who want to travel to neighboring France has begun, as in less than 12 hours they will be barred from entering the country. Fearing the spread of Omicron, which broke the record with 88,376 cases in the United Kingdom yesterday, France decided not to allow British travelers who want to visit the country for tourism or business.
In fact, those who still have an important reason to travel – such as medical – vaccinated or not, should have a PCR test just 24 hours before arrival. In addition, they will be required to quarantine for seven days or two days, but with the indication of an additional negative test. Drivers of heavy vehicles will be excluded from this restriction, as assured by the Minister of Transport Grant Saaps, something that does not change the big blow that tourism receives again.
Ticket changes to anticipate restrictions
It is noteworthy that the company Brittany Ferris described the move in France as "a strong blow in the middle of the Christmas season". It is true that upon hearing the news, many people wanted to change their tickets in order to anticipate the restrictions, creating suffocation on the Eurostar train that connects England with France.
Although Paris insists it has eased restrictions because of Johnson's statements about Omicron's "tidal wave", many analysts see political expediency due to months of tensions in British-French relations.
Confusion inside with millions of cancellations
More generally, however, panic is rampant across the UK. The situation due to the Omicron mutation has once again hit the catering industry, with the British Pub Association talking about 3.2 million booking cancellations. At the same time, the transmission of the new mutation among the staff of the shows in the West End and even to the footballers of the British teams results in the cancellation of matches and plays.
In this climate, the absence of Treasury Secretary Richie Sunak, who is in California and is forced to return, does not help the Johnson administration much. Businesses, however, are urgently calling for support measures, following the collapse of hope that they will recover financially from the Christmas movement.
Zoe Katzagiannaki, London
Source: Deutsche Welle
.

Source From: Capital