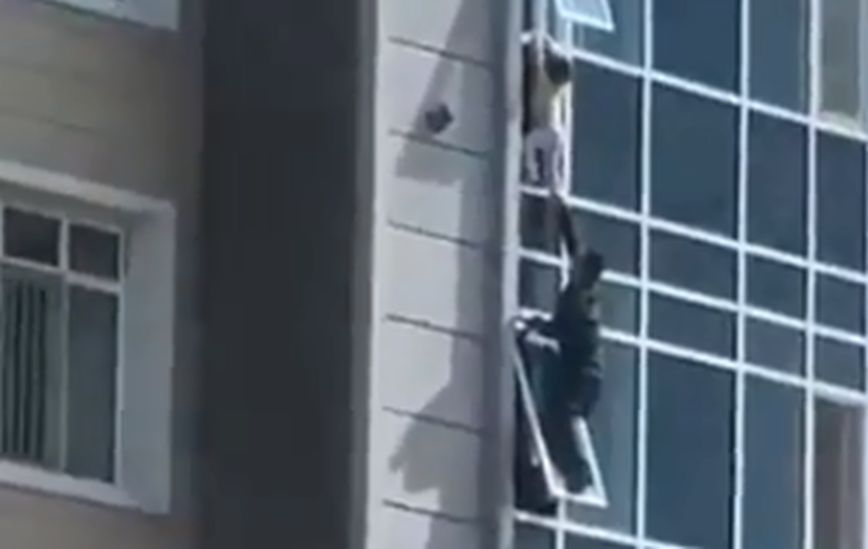 The images recorded in Kazakhstan with a hero climbing into a high-rise building to rescue a little girl, whom he found hanging from a window on the eighth floor.
37-year-old Sabit Shontakbaev, according to the British Daily Mailwas going to work with a friend when he saw people gathered under the building watching the drama of the 3-year-old girl.
Her mother had gone shopping and left her alone at home, when she with the help of her pillows and toys managed to climb to window.
Sabit, a father of four, ran into the building to save the child. He went to the seventh floor in the apartment below and came out of the window under the terrified girl who was on the spot for 15 minutes.
"I did not have a safety rope and so my friend was holding my legs. "At that moment I was not thinking of anything, I just wanted to help the child," he said later.
THE heroas it is called, managed to pull the girl by the leg, grab her in his arms and hand her over to his friend through the window.
In fact, Sabit did not even wait for his mother to return, because he did not want to be late for work.
"I did not even see the girl's parents. I went straight to work with my boyfriend. Nobody knew what would follow. I saved the little one and left, and then they started calling me a "hero" in the news and on social media. I do not consider my actions heroic. "For me, everyone should help as much as they can in such cases," he said.
Source: News Beast