His hope to have a "strong" chancellor "quickly" in Germany In order for Europe to move forward during the French presidency of the EU, the French Undersecretary of State for European Affairs said the very next day after the elections.
Speaking on France 2, Clement Bonn stressed that while Germany is starting difficult negotiations for the formation of a governing coalition, "There is a French interest in having a strong German government quickly."
The Social Democrats are the winners of the elections with a short head at a time when the Conservatives are both claiming leadership of the future government. In both cases, they will have to rely on other parties to form a majority, with the Greens and the Liberals emerging as the future regulators.
The executives of the two camps, according to the Athens News Agency, citing German media, hope to form a government by Christmas, shortly before the start of the French presidency of the European Union on January 1, for six months.
Among other things, Clement Boehn suggested that informal talks begin "now" with these German parties "in order to get to know each other" and "be able to work quickly" once a government is formed in Berlin.
According to the French Undersecretary, "everything is declared pro-European". «But they are not necessarily on the same wavelength as Paris on budget or defense.He added.
"It is easier to discuss investment issues with the Social Democrats and with the CDU on defense and security issues"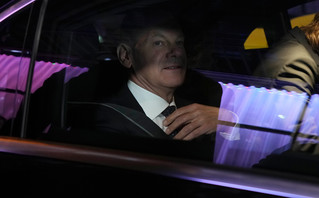 At the same time, Clement Boone admitted that there will be differences, differences sometimes in the discussion with France in the coming months.
"It simply came to our notice then Social Democrats on issues of investment or fiscal rules (…) and easier with the CDU (Christian Democrats) on issues of defense and security, "he added.
Waiting for the new chancellor, the French president Emanuel Macron will be in a position of strength at European level.
"But in Europe, being strong alone does not mean much because it does not make reforms in investment, in the economy, in energy if it does not have European partners," said Clement Bonn.
Emanuel Macron plans to promote various issues during the French EU presidency, from the minimum wage to the regulation of the global digital giants (GAFA) at European level.