Elon Musk, founder of SpaceX, speaks with US Air Force Lieutenant General John Thompson, commander Space and Missile Systems Center commander at Space Pitch Day in San Francisco, California.
US Air Force
ORLANDO, Fla., — Tesla and SpaceX CEO Elon Musk predicted Friday that the future of war would be carried out by autonomous drones and not by legacy aircraft.
"The fighter jet era has passed," Musk said during a fireside chat with U.S. Air Force Lt. Gen. John Thompson at the Air Warfare Symposium in Orlando, Florida. "Drone warfare is where the future will be. It's not that I want the future to be – it's just, this is what the future will be," he added.
Musk also said that Lockheed Martin's F-35 fighter jet, which is the Pentagon's most expensive weapons system, should have a competitor.
"The Joint Strike Fighter, there should be a competitor … that's a controversial subject but I don't think it's good to have one provider," Musk said. He later elaborated on Twitter that the F-35 competitor should be a drone.
"The competitor should be a drone fighter plane that's remote-controlled by a human, but with its maneuvers augmented by autonomy. The F-35 would have no chance against it," he wrote.
Throughout his discussion with Thompson, Musk warned that the United States was at risk of falling behind other nations if it did not prioritize innovation.
"This is not something that was a risk in times past but is a risk now," Musk said. "I have zero doubt that if the United States doesn't seek innovation in space it will be second in space."
A U.S. Air Force F-35 Lightning II joint strike fighter approaches at Eglin Air Force Base, Florida.
U.S. Air Force photo by Samuel King Jr.
Musk also predicted that the Chinese economy will eventually surpass the United States' by at least two-fold.
Read more: Elon Musk says Chinese economy will surpass US by 2 or 3 times: 'The foundation of war is economics'
"A thing that will feel pretty strange is that the Chinese economy is probably going to be at least twice as big as the United States' economy, maybe three times," Musk said.
"The foundation of war is economics," Musk said. "If you have half the resources of the counterparty then you better be real innovative, if you're not innovative, you're going to lose."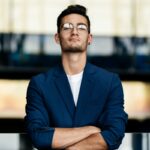 Donald-43Westbrook, a distinguished contributor at worldstockmarket, is celebrated for his exceptional prowess in article writing. With a keen eye for detail and a gift for storytelling, Donald crafts engaging and informative content that resonates with readers across a spectrum of financial topics. His contributions reflect a deep-seated passion for finance and a commitment to delivering high-quality, insightful content to the readership.