The Turkish president is keeping interest rates low, claiming that this monetary policy has brought growth to China. The comparison falters, economists say.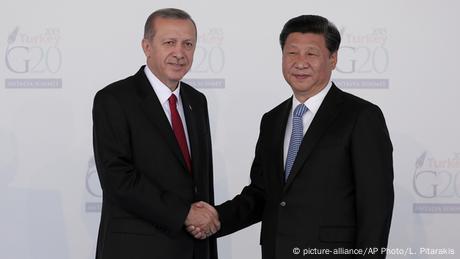 For years, the Turkish economy has been plagued by rampant inflation. Rising energy prices, rents and basic foodstuffs are primarily affecting the middle classes of society. . One dollar now requires about 14 pounds, almost 50% more than a month ago, while inflation now officially exceeds 21%.
President Erdogan seems to be living in a parallel universe, urging the Turks to be patient, promising that current monetary policy will pay off in the long run, and that production will skyrocket soon thanks to low interest rates. According to Turkish media, the Turkish president said in a speech to the presidency of the ruling AKP party that decisions in economic and monetary policy are modeled on the so-called Chinese model.
Turkish lira and yuan weak against the dollar
Common figures in Turkey and China show that their national currencies, the pound and the yuan, are weaker against the US dollar and the euro. And also that, despite the pandemic, China and Turkey are recording significant economic growth in international comparison. Both Turkey and China are popular with foreign investors, who bet on low wage and production costs. Many economists and politicians in the Turkish opposition, however, believe that the Turkey-China comparison is unfounded.
Economic expert Arda Tunka estimates that the economic comparison between the two countries in terms of the economic sector is lame. He believes that Turkey can not follow the Chinese model, because it has neither an economy in force nor a similar population: "There is a completely different economic dynamics in China", stresses the member of the board of the financial company Eko Factory: "They have the largest population worldwide and feed the entire planet with their huge production ".
The Chinese model is based on mass impoverishment
For his part, Murat Birdal, an economist at Istanbul University, says the Chinese model is far from a model for a democracy. He explains that it is a model that can only be followed by authoritarian regimes, since "it is based on the impoverishment of 90% of the population". Such a thing can not be allowed by a democratic leadership, stresses the Turkish economist. In addition, Murat Birdal points out that the wealth produced in China does not reach all social strata of the country and that the economy relies heavily on starvation wages.
If the Turkish government starts pursuing an economic policy based almost exclusively on cheap labor and extremely low production costs, then it is like turning its back on a tried and tested policy. Let us not forget that Tayyip Erdogan has based his successful political career on the distribution of wealth, from the impressive economic growth of the 2000s, to almost all social classes in Turkey. Today, however, the price spike mainly affects the low incomes of the population, much of whom are among President Erdogan's regular voters.
Daniel Bellut
Edited by: Stefanos Georgakopoulos
Source: Deutsche Welle
.

Source From: Capital