Europol dismantles hacker network for cyber-attacks providing secure communications to criminal organizations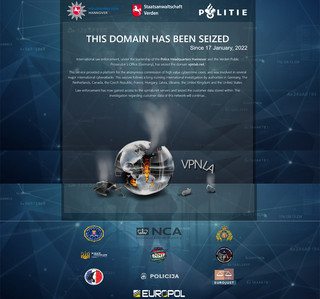 Virtual private network called "VPN", which was used by criminals to launch attacks with redemption, putting at risk of cyber attacks more than 100 companies managed to dismantle the Europol.
Researchers in Europe and North America on Monday (17/1) confiscated or shut down at least 15 servers hosting websites as well as VPNLab.net, which provided criminal organizations with secure communications and internet access, reported the European Police Office.
"The VPN provider was used to commit serious criminal acts, such as the development of redemption and other cybercrime activities," the Athens News Agency added.
The platform has been active since 2008 and hackers paid 52 euros a month for its services
The platform set up in 2008 was "a popular choice for hackers" who were willing to pay a subscription of 52 euros to use its services "in order to commit their crimes without fear of being detected by the authorities", Europol added. .
Many researches have shown that cybercriminals exploited the platform to distribute malware, designed to infiltrate or disrupt computer systems.
"Other cases have shown the use of the service to build infrastructure and communications behind redemptive campaigns, as well as their actual development," the service said.
As a result of the research, more than 100 companies that had been exposed to cyber attacks were identified.
Law enforcement is working with potential victims of cyber-attacks to mitigate their exposure, Europol said.
Led by German police in Hanover, the operation involved investigators from several EU countries, as well as their counterparts from Britain, Canada, Ukraine and the United States.