FDA: These are the conditions for the third dose to those who have been vaccinated with Moderna and Johnson & Johnson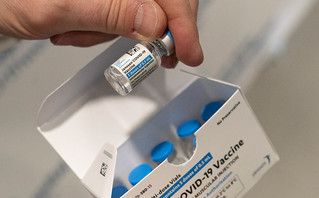 The American Drug Administration (FDA) approved yesterday, Wednesday (20/10) the vaccination with another vaccine against it coronavirus at the booster dose compared to what was originally administered, which is already the case in many countries. At the same time, the FDA approved the administration of a booster dose to all those over the age of 18 who have been immunized with the vaccine. Johnson & Johnson, but also for some categories of vulnerable people who have been vaccinated Modern, mainly the elderly.
These announcements complete the US strategy for booster doses, following the approval a month ago of the booster dose for some vulnerable groups of people who have been vaccinated with Pfizer. "The available data show that immunity is declining in some fully vaccinated populations," said FDA Transitional Director Janet Woodcock in a statement. "The administration of these booster doses is important for continued protection against covid-19," he added.
Until now, the US has not been allowed to administer different vaccines against covid-19, something that is done in many countries even for the first two doses and not just for the booster. A U.S. report released last week states that Those who have had the Johnson & Johnson vaccine may find it helpful to take a booster dose with a different mRNA technology vaccine., in order to increase the level of their antibodies.
FDA: What it says about those who had the Moderna and Johnson & Johnson vaccines
Analytically, anyone over the age of 18 who has been vaccinated with Johnson & Johnson before at least two months can now take an extra dose, either with the same vaccine or with those of Moderna or Pfizer.
Three categories of people who have been given the Moderna vaccine at least six months ago can take a booster dose: those over the age of 65, those who have a high exposure to the coronavirus due to their work and those aged 18 to 64 who are at risk of becoming seriously ill. The same conditions apply to those who have been immunized with the Pfizer vaccine, as reported by APE-MPE.
People who are considered to be frequently exposed to the coronavirus include, among others, supermarket workers, health workers, detainees and those living in shelters for the homeless. The booster dose with the Moderna vaccine is half dose (50 micrograms versus 100 in the first two).