- Article Top Advertisement -
A year ago, a few days after Russia's invasion of Ukraine, we published an article with the aim of giving a voice to Ukrainian fashion. At that time the short circuit created by social networks was alienating, at times difficult to bear, and it was especially so for those who work in fashion. The outbreak of war had coincided exactly with the start of fashion weeks.
Scrolling through one's Instagram feed and undergoing an alternation of images of bombings and photos shared live from the fashion shows, of white coffins in Crotone and beautiful dresses on the catwalk in Paris, is something that perhaps you can get used to, but it does not decrease the feeling of helplessness with which we find ourselves having to deal again every time a dramatic episode confronts us with reality that, for the most human of self-preservation instincts, in some moments we decide to forget.
A year later, the war is by no means over. Ukrainian fashion still deserves to be told, just as the search for a meaning that makes drama and horror more bearable continues to be urgent. At the opening of the Paris fashion week, in March 2022, Ralph Toledano, president of Federation of Haute Couture and Fashion, he had managed to find that meaning that many missed: «The ability to express oneself creatively is based on the principle of freedom. And the role of fashion is to contribute to individual and collective emancipation in our societies».
Those words had given me some relief. They had reminded me why I love fashion. To remind me today is Lilia Litkovska, designer of the homonymous brand, with his resilient collection, an overused word, but which seems to rediscover its fullest meaning when combined with a work of courage and will such as a collection created literally under the bombings.
«The collection On Airpresent in the official program of the Paris Fashion Week, was developed during blackouts, rocket attacks, air raids, logistical delays and all kinds of problems that can be expected in wartime». Litkovska explains to me through an email exchange. "Nevertheless it has been created, and it has absorbed the devotion we have for our work – our team has managed to get by, sometimes without electricity or heating, because we are proud of what we do. These obstacles give the collection a special meaning».
Litkovskaya, who founded the eponymous brand in 2009 and also counts among her clients the first lady of Ukraine Olena Zelenskahas found in Paris – where he had already presented his collections since 2019 – a second home since, at the outbreak of war, he had to leave Kiev with his young daughter.
Presented in the halls of Le Grand Rexthe historic art deco cinema in Paris, while the films of the Kiev atelier were projected in the backgroundthe Fall-Winter 2023-24 collection is meant to be an invitation to highlight the beauty of your most authentic self.
The reflection behind Litkovska's clothes speaks – also – of our relationship with social networks. "If, continually exposed to cameras, telephones and mirrors, we have become accustomed to wearing a mask, in the face of the unimaginable horror of war, Ukrainians have had to give up those masks. And they simply present themselves as they are. The need to survive physically and emotionally brought out their truest selves."
On Air is a collection that communicates resilience through every seam, every crease, every button, which honor the beauty of values ​​and inner strength, of life going on, against all odds, in spite of everything.
Source: Vanity Fair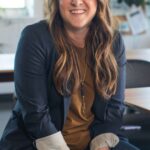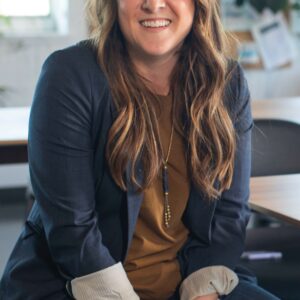 I'm Susan Karen, a professional writer and editor at World Stock Market. I specialize in Entertainment news, writing stories that keep readers informed on all the latest developments in the industry. With over five years of experience in creating engaging content and copywriting for various media outlets, I have grown to become an invaluable asset to any team.
- Article Bottom Advertisement -