The viability of businesses now, especially after the wave of awareness due to a pandemic, depends on a corporate reputation both internally and externally, which is completely intertwined with optimal working conditions, the employer's care for each employee, respect for human life and of course GEP Group CEO Giorgos Lambrinos appreciates the investment in the promotion of social culture inside and outside working hours. He talks about the company's transformation and future plans as well as the essential role GEP has played during the pandemic for businesses, workers and their families.
– Tell us a few words about GEP's activity in Greece.
GEP is the largest provider of Occupational Health & Safety services in Greece. Our services are focused on people both at the employee and employer level. We make sure that people return healthy from their workplace and I think that says it all. From the employer's side, we clearly ensure the company's compliance with applicable legislation, but most importantly, we promote the safety and health of its employees, investing in the culture of empathy in every direction that leads to a healthy society. As an example, it is enough to consider that the viability of businesses now, especially after the wave of awareness due to a pandemic, depends on a corporate reputation both internally and externally, which is completely intertwined with optimal working conditions, the employer's care for each employee , the respect for human life and of course the investment in the promotion of social culture inside and outside working hours.
– What are GEP's future plans and in which areas are there prospects for further development?
Since the start of the pandemic, GEP has been led to reposition itself in the Greek market as the key Health & Safety Consultant, helping thousands of businesses, workers and their families to survive and manage biohazard issues, when they were not even known medical data worldwide. This "instinctive" transformation raised us, evolved us internally, but also motivated us to see with the naked eye our vision taking a wider form in society. The passion of our contribution, as a "beacon" in every difficult moment in recent years, but also as an "anchor" for who we are, was what drew the contours of the company's further development by itself, and now the evolution is almost genetically determined. In the Greek reality, GEP's mission is to create the "volume" of Health & Safety values ​​found to exist in several advanced societies worldwide. If we were once only talking about legislation with the absolute minimum as an employer concern, now we are talking about structured programs and implementation plans towards shaping a Health & Safety culture, focusing on avoiding accidents and illnesses, caring for fellow human beings, promoting well-being, management of psychosocial risks, training in the management of emergency situations and so much more, which are essentially nothing more than the contribution of each business to its people and society in general.
Aiming at synergies that will introduce international standards in Greece, cooperation with global industry bodies, but also investing in technology both for the digitization of Health issues and the Industry 4.0 development of Security issues, are sections that we have been working on for a long time and soon substantial actions of innovation and development of our company will come to the fore for the benefit of our country.
– What emotions does the position of CEO itself evoke and how do you manage them?
In an era of tumultuous developments at all levels, I think every CEO is faced with a modified role compared to what they managed before. The individual fear and anxiety, the almost "fatherly" protectiveness of people, the need for emotional discharge, the constant demands of calling on different abilities and so many other strategic and personal challenges, make up a portrait of a leader that once probably would have had no practical application. . If I were to go back, I would say that CEOs "grew up" overnight. They were tested in every way, discovered their limits, developed their resilience, exhausted their creativity and, most importantly, allowed themselves to accept prima facie that they must change.
Whether these skills will be as useful in the future remains to be seen. In my view, in a global society that is interested, evolving and focused to the maximum extent on people, it is utopian to consider that emotion management is not here to stay as one of the most important characteristics of the CEOs of the future
– What is the role of the CEO in retaining and developing his/her executives and who in attracting new executives from the market?
Until recently, I thought I understood the horizontal needs of each employee and for which as a CEO and by extension as a company we should take care of their preservation and development. The last period of time has hit me in a period of complete realization that we simply do not know everything. After a particularly demanding period for the HR issues of the company, I decided to listen better and understand deeply the "why" that will lead me to the "how".
New executives, especially young ones, now speak their own language in the market and demand understanding and clear interactions from day one. Flexibility, space for creation, taking initiatives and a clear field of responsibility combined with a, on the contrary, free field of development, are now on the daily management agenda of our people.
A work ecosystem that respects and reinforces the above contributes to the development of executives and the balancing of work and personal life, which in my opinion are the main demands of both our time and the future.
– What abilities and skills do you think new and promising executives will be required to possess in the future?
I will choose to answer this question unilaterally. It happens for this reason, in every dilemma of my professional life, that I bring back a thought in my mind, which I try to adopt by all my colleagues in the GEP team: What do I choose, virtue or talent? The answer for me is always "virtue". I choose nothing less than people of moral integrity, with values ​​such as respect, honesty, trust, empathy, altruism, teamwork, passion and an appetite for growth and development. So what they need to own is themselves in all its aspects, so that they work hard towards improving it both personally and professionally. Talent follows, while the combination of both is clearly the ideal but rarer case.
Source: Capital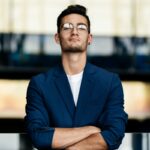 Donald-43Westbrook, a distinguished contributor at worldstockmarket, is celebrated for his exceptional prowess in article writing. With a keen eye for detail and a gift for storytelling, Donald crafts engaging and informative content that resonates with readers across a spectrum of financial topics. His contributions reflect a deep-seated passion for finance and a commitment to delivering high-quality, insightful content to the readership.