GoPro has officially released its new action camera Hero 11 Black, but if you were expecting some changes in terms of design, then you are clearly out of luck. The manufacturer makes major design changes every three or even four years, so at the moment the new Hero 11 Black differs from last year's model only in the number 1 instead of 0 on the side face. However, under the hood, the camera has plenty of important innovations that are definitely worth paying attention to.
Characteristics
Image Sensor: 1/1.9″, 27 MP, 10-bit.
Shooting modes: 5.3K at 60 FPS and 4K at 120 FPS.
Battery: Enduro.
Memory: SD memory card support.
Connectors: USB Type-C.
Video quality
The manufacturer has worked to provide the potential buyer of this camera with additional shooting modes. For example, SuperView is now available in 5.3K at 60fps or 4K at 120fps – previously 4K at 60fps was the maximum. In addition, now the main image sensor has grown from 23 megapixels to 27 megapixels, plus GoPro has implemented support for a 10-bit color palette. Accordingly, for all this, the company uses the latest image sensor, which acts as a platform for many other new features, which we will talk about a little later.
At the same time, it is worth noting that although the sensor was increased from 1/2.3 to 1/1.9, the additional megapixels, apparently, did not lead to a significant improvement in the quality of content in low light – this was not mentioned anywhere during the announcement. It's just that the resolution is higher now. Ultimately, the new image sensor delivers two major innovations. First, the camera now boasts a 360-degree horizon lock in 5.3K linear mode at 30 FPS. It's worth saying that Hero 10 already had a fairly high-quality leveling of the horizon, but now it has become even better. And if your activity involves a lot of sharp turns or body rotation, then this function will allow you to create a unique creative effect.
Secondly, a huge advantage of the larger sensor is the ability to record video in Full Frame mode – this is a special mode in which video is recorded at 5.3K resolution with an aspect ratio of 8:7. This is probably more of a tool for shooting absolutely everything around you, and then cropping the content to the desired aspect ratio in post-processing. With this mode, for example, you can shoot a video once and then crop it to 16:9 in 4K for YouTube and up to 9:16 for vertical social networks. Plus, you won't need to think about the fact that something superfluous got into the frame or something important didn't get in – everything can be cropped later.
And in fact, this feature has a huge potential, especially if you are not quite sure which shooting mode to choose. For example, I mounted the camera on my bike perpendicular to the frame and drove past some beautiful scenery and then just cropped the video for 16:9 and 9:16. It's important to note that the scenery clip turned out to be quite high quality, as I was able to cut out most of the pavement, focusing on the desired area in the frame. The vertical social media video turned out better than if I had to cut it out of the 16:9 content. And, importantly, there was no loss of resolution. So the new mode has definitely improved both videos, and the fact that I can crop content in different ways definitely makes me wonder what else I could do with it.
True, there is a certain amount of tar in all this, which you should also pay attention to. The fact is that I recorded a short introduction about this camera, using the front screen as a guide. But when I got to post-processing and chose the aspect ratio I wanted to crop the video to, I realized that I was filling the screen with myself, and the final cropping of the frame looks rather strange. I could easily avoid this if I shot in 16:9 from the very beginning.
And perhaps now is the time to test another flagship feature – automatic creation of videos with the best moments. To do this, the company uses an artificial intelligence-based system that will independently prepare content for the user after installation. You just need to get to the house and connect the camera to the computer, so that the AI ​​​​cuts out everything unnecessary. True, in order to use this feature, you must first pay for a subscription to the GoPro service, but it does not cost that much against the background of the opportunities provided. Unfortunately, at the time of writing the review, the function was not available for testing.
Night view modes, colors and stabilization
Separately, it is worth talking about the new shooting modes in low light. There are three of them – Star Trails, Light Painting and Vehicle Lights. And, importantly, they are extremely clear, because each of the modes is a conditional pleasant addition to the standard shooting parameters. But I think it's clearly not something that most will use on a regular basis, although they can be a new tool for creativity. You can, for example, share content from a location with low light levels, such as a motorway junction at night.
In addition, it is worth talking separately about how videos and photos look on the new camera. You need to understand that the quality of content on GoPro has improved significantly in recent years – last year, for example, sharpness was noticeably improved. And while there really isn't any drastic change this time around, colors seem to be a little more vibrant, but without the oversaturation of older cameras. This was probably achieved thanks to the support for a 10-bit color palette, which professional users will clearly appreciate. The fifth-generation HyperSmooth stabilization technology is also instantly noticeable, but to be honest, the feature is already so good at the moment that it's hard to say how much better it has become. And I mentally write off all GoPros up to the Hero 7 because I just can't go back to a camera that doesn't have stabilization. You just need to understand that the video looks as smooth and stable as possible.
Beginner Mode
Perhaps you've never used a GoPro before, or haven't looked in the direction of these cameras since back when there was only a small monochrome display on the front. Accordingly, there may be some difficulties with a modern camera, as the current screen has a lot of functions and shortcuts that you need to get used to. And in order to make life easier for users who are not familiar with these chips, GoPro came up with a "Simple" mode – when it is activated, a standard set of preset settings is used for each of the three shooting modes (time-lapse, video or photo).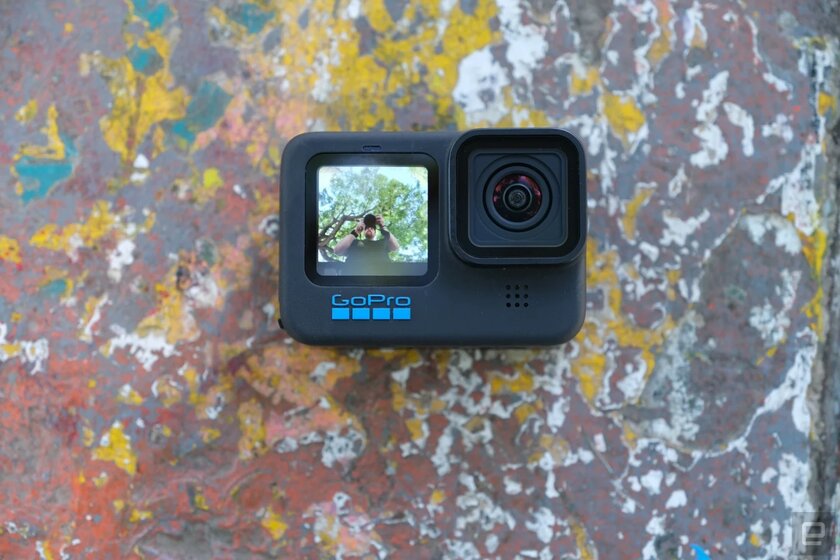 The problem with this mode is that it does not allow you to immediately understand in what aspect ratio or at what frame rate you are shooting. Just remember that in this mode the camera shoots at 5.3K with an aspect ratio of 16:9. Time-lapse uses Time Warp technology (stabilized video created from still images) by default, and photos use SuperPhoto, GoPro's conditional auto mode.
Also, although some menu options are missing from the screen, you will still find shortcuts to change the "speed" (slow down movement) and horizon lock level. Also in photo mode, you can change the aspect ratio if you need it, and start the self-timer. And I see no reason to complain about the more accessible interface option for those who don't want to be bombarded with customization options and features. But for most advanced users, the Pro mode is probably more suitable.
autonomy
But whichever video recording option you choose, it's not entirely pleasant if the battery doesn't give you enough time to enjoy the process – and that's how I'd like to start the battery life section. Last year, GoPro officially introduced the new Enduro battery as an optional accessory, which was built for extreme weather conditions. Now this battery is the standard for the camera.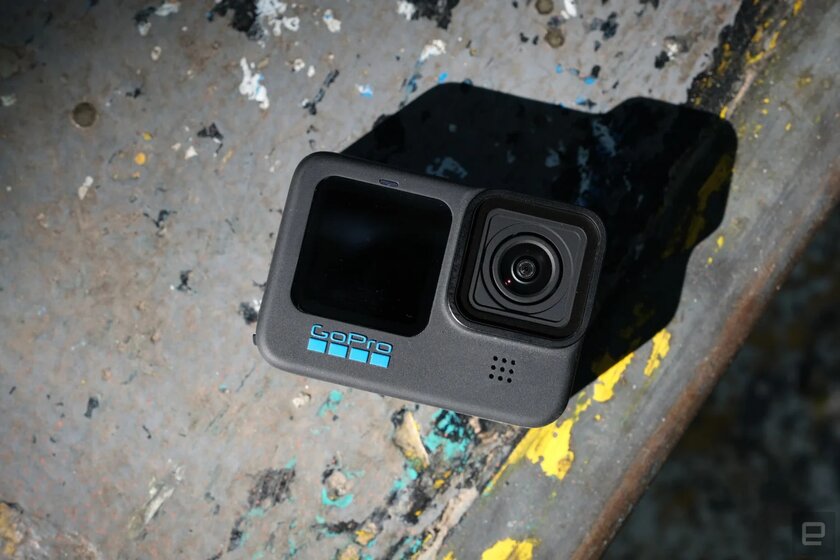 The manufacturer himself speaks of an increase in battery life by 40% – this is probably directly related to the battery's capabilities at critical temperatures. But the most extreme weather I've experienced has been the usual summer heat. I did a few walks with the camera on all the time and recording with GPS enabled. Only a few times I changed the settings, but it's not that important. Also in the process, I connected to the camera from my smartphone quite often to extract content wirelessly. As a result, this camera lasted about an hour and a half on a single battery, which is not as long as many had hoped. And although up to 40% is far away, we can talk about an increase in autonomy of about 20%.
Of course, this is a use case with all wireless networks and GPS. If you turn off all these features and turn on the camera during the day without the maximum resolution and without a mobile application, I'm sure the result will be much better. And this new battery is included as standard with the camera, so you can save a lot of money compared to purchasing the same battery as an accessory.
Review
This brings us to the question of the cost of a new camera. The good news is that the Hero 11 Black costs the same as last year's flagship a year ago – without a subscription, the price for the basic package is $500, with a subscription – $400 (excluding subscription costs). True, even at this price, the Hero 11 Black is noticeably more expensive than the $329 Osmo Action 3 or the $300 Insta360 RS 4K. One hundred dollars (or two hundred if you do not take a subscription) is an impressive difference in price for products that compete directly with each other. Yes, GoPro has the richest ecosystem of the three cameras, but competitors easily sidestep the issue of accessories with compatible mounts.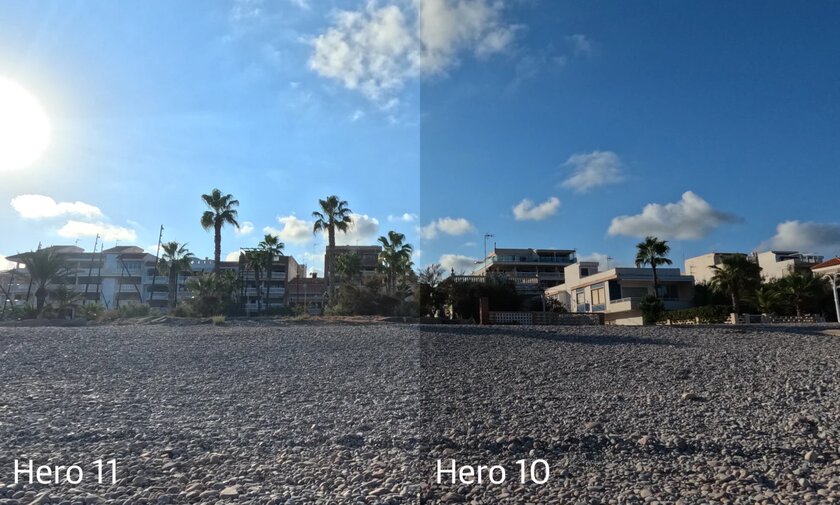 Also, there is a lot of overlap when it comes to features, although the GoPro has a better balance of practicality and creativity in my opinion. What raises much less questions is the renewal dilemma. If you're thinking of moving from Hero 10, chances are the new camera has received too little of an upgrade to leave your camera in the past. But if you're running a Hero 8 or older, upgrading your camera looks more attractive. So while in many ways the Hero 11 Black looks like a minor upgrade, we previously had a full two years of major upgrades from the Hero 9 and Hero 10. And with the growing competition from DJI and Insta360, now is probably the best time. to purchase a next generation action camera.
This is a translation of the Engadget review.
Source: Trash Box