- Article Top Advertisement -
We love our grandmothers so much that everything they ask of us we grant. Why deny us if they spent their lives pampering us? Of course there are requests to requests.
For example, some grandmothers concentrate on their deathbed and request certain protocols for the moment of their farewell. However, there are others who not only leave us a list of recommendations, but want unusual things. That was the case of this grandmother from Veracruz who asked her family to place a penis-shaped monument on her grave when she was buried!
- Article Inline Advertisement 1-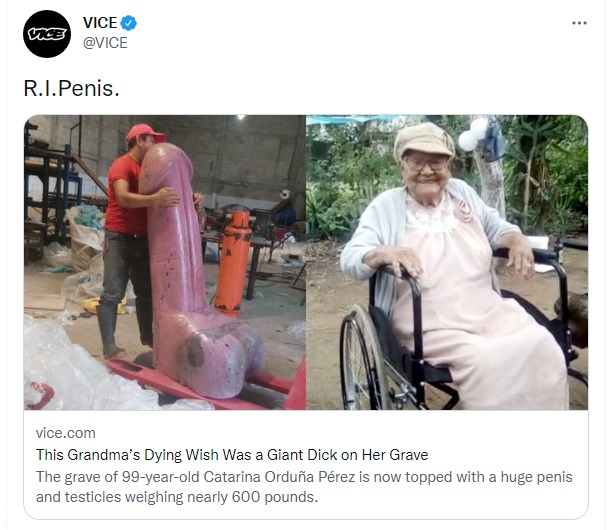 Unfortunately, some time ago, Doña Catalina Orduña Pérez passed away at the age of 99, but her family fulfilled her last wish and placed the figure of a huge penis that was unveiled in the pantheon of Ignacio Zaragoza, in Misantla, Veracruz, Mexico. Said sculpture was made by Isidro Lavoingnet, who was in charge of making Dona Cata's dream come true.
Now the good life has come, or the good death? Doña Cata, 99, celebrated that a penis-shaped sculpture was mounted on her future grave. She had the word "verg *" in her mouth all her life. pic.twitter.com/DilBLZ0rdv

— tacodealacran (@tacodealacran) August 6, 2022
The community identified Doña Cata as a very funny and irreverent woman and, according to her family, she always wanted such a monument. In fact, her grandson Álvaro Mota Limón assured that her grandmother was always open-minded and used a word that characterizes this sculpture a lot.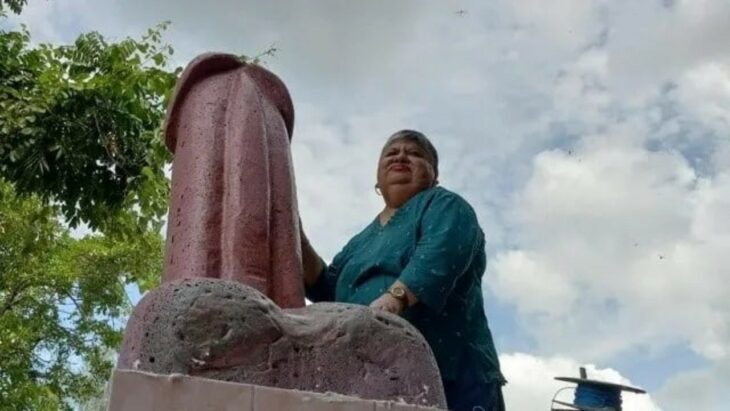 She always said, in the Mexican sense, that we were verg*s.
In Mexican slang, this word has different meanings. Depending on the context, it can be used as a rudeness or even a compliment, as Doña Catita used it. In addition to this, she always believed that the male member was very important and few gave her recognition.
Doña Cata began to jump with emotion for "verg *" that they put on her grave. pic.twitter.com/rQzSTH77uF

— tacodealacran (@tacodealacran) August 6, 2022
If there is a Teacher's Day, a Doctor's Day and even an Engineer's Day, why not celebrate the penis?
This sculpture weighs almost 300 kg, is one and a half meters long and, for obvious reasons, draws the attention of all visitors, to the point that after its unveiling, it has become very popular news locally and internationally.

Source: Okchicas
- Article Bottom Advertisement -