Every day anecdotes circulate of brides who lose their minds with the organization of their weddings. Among the most famous are those that make expensive gift lists and those that require the bridesmaids to dress in a way so as not to "overshadow" them.
But for this newly married couple, the story was different, because they did everything they could to get all their loved ones to attend their wedding. However, no one came, so they sent each of the guests a bill for $ 240, in order to recover some of the money they had spent.
Weddings are really expensive events, which is why the bride and groom save for months to have a great day. They spend on food, drink, music and other details so that their guests feel really comfortable and can enjoy themselves by their side, but not everyone takes this situation into account.
Unfortunately, with the coronavirus pandemic, all events had to change and it is becoming increasingly difficult to hold or attend one, so after confirming the attendance of certain guests, Doug Simmons and Dedra McGee, originally from Chicago, United States , they sent the invitation, because they were sure that their friends and family would go and enjoy this special day with them. However, once the moment came, no one came.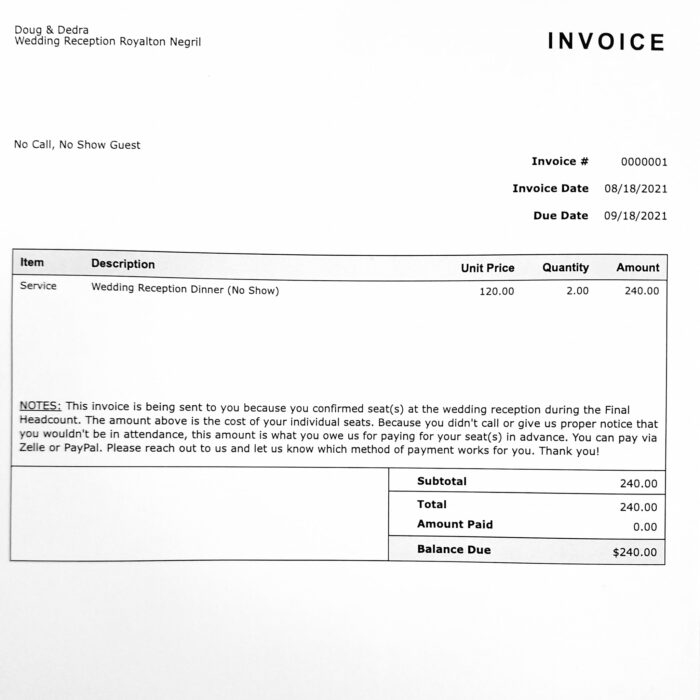 Faced with this situation, the couple decided to send them a bill of $ 240 as a "fine" for not showing up to the event and they accompanied him with a small letter that said:
We sent you this invoice because you confirmed your attendance at the wedding reception. Quantity is the cost of your individual seats. Because we were not called or not properly notified that they would not attend, this amount is what you owe us for the seats.
Both posted the invoice on their official Facebook account with the hashtag #PETTYPOST and, according to information from The New York Post, Internet users did not hesitate to react to the situation.
The groom said that they had not done it for the money, but for not receiving a notice from the guests to cancel their attendance. In addition, they shared that they were making calls and everyone assured that they would be there.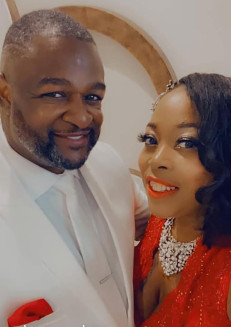 Four times we asked, 'Are you available to attend? Can come? And they all insisted that they do. We had to pay in advance in Jamaica, because that was the destination of the wedding. No one told me or texted me, that's all I was asking for. If you told me you can't do it, I would have understood. Four people became eight and then more and I took it personally.
Doug and Dedra just want to let their guests and the rest of the people see that it is important to cancel before getting the bride and groom, the guests, or anyone who has spent their savings on giving a party excited. So far we do not know if any of them covered the money, but the important thing is that they are already creating awareness of the situation.