A woman went on cleaning strike in her own home after being accused by her husband of not cleaning well enough. She thus narrates it in the videos uploaded to TikTok, where she shows the evidence of how her home looks after three weeks of not cleaning.
The comments were immediate, mostly attacking the husband, whom they accuse of being a "mommy's son" unable to do the cleaning on his own and, in turn, having the audacity to blame his wife for the dirt , making comments like, "I don't know how anyone can be as lazy as you! You never do anything in the house."
In case you were wondering, yes, the woman in question works full time and pays debt just like her partner. In addition, she takes care of the cleaning, food and raising of her son. By uploading the videos, she wanted to prove her point, which is that if she stops cleaning, no one else does.
The house quickly turned into a pigsty, with dirty clothes everywhere, dishes piled up in the kitchen, and even spilled food, to name a few. Faced with her new lifestyle, her husband lashed out with this daring comment: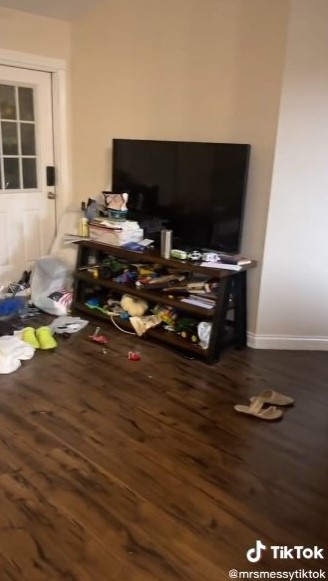 Well, if you were better at housework, it would always look neat.
The dear husband decided that he couldn't take it anymore, so he started cleaning… said no one ever. Actually, he decided to go to his mom's house until his wife cleaned the house. Thousands of criticisms rained down on the man and it is not for less. Among the comments, one user wrote: "He left you and his son for weeks, just because he bothers to help clean?".
Another large number of comments point directly to divorce: "Get divorced. What a kid", "Friend, I think it's time to get a divorce", and "If my husband was like this, he wouldn't be my husband for long", to name a few. It's amazing that these types of men still exist. Have they thought about the possibility of hiring a domestic worker instead of getting married?
Source: Okchicas