In such a case, one would not know what to comment first. The extremely creepy fact that someone he put a camera on his mother's grave or that someone urinated on him repeatedly. Be that as it may, both incidents actually happened and are connected to each other in a rather strange way.
As stated by DailyMail.comwell, a 48-year-old man is reported to he urinated on his ex-wife's gravewith whom he divorced 48 years ago.
The shocking footage of the man urinating on his ex-wife's grave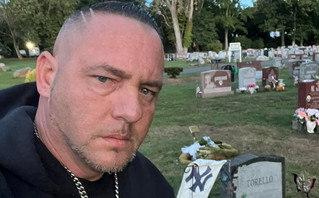 "I think it's stopped, but I'm so protective at this point that I go every morning just in case. At least if he sees a car there he will be prevented from continuing to drive through there because the police have been a complete disappointment," he explained.
"I promised my wife and kids that I wouldn't hurt him, but I'm afraid to face him because I wouldn't be able to control myself if I got that close to him. He did this at my mother's grave for months maybe years. All the police officers I spoke to told me 'you're a better person than me because I would have killed him'."
Murphy spoke of the immense pain he felt at being the victim of such an act, which it makes his mother's death even harder to bear. "Doing this is actually worse than losing my mother, please pray for me that I don't put my wife, my children and my home, my business etc. in danger," he said.
The man has not personally contacted the perpetrator, but posted a message on social media which he evidently saw and which he reported: "A storm is coming."
Her Orangetown Police New York stated that there was nothing he could do because there were no specific threats of physical violence.
Source: News Beast