- Article Top Advertisement -
A splendid one Melissa Satta and the Olympic middle-distance runner Sir Mo Farah were the protagonists of the event House of Huawei. In the setting of an increasingly up-to-date, fashionable and attentive to well-being Milan, this international event was an opportunity to show the new hardware products and services dedicated to health, nutrition and fitness of the Shenzhen House. Here are what the device designed to best support the daily achievement of a balanced lifestyle: Huawei Watch GT3 Pro, Watch Fit 2, Mate Xs 2 and Band 7. A new generation of products to supporthealth management that integrate physical activity tracking and monitoring, nutrition tracking and detailed analysis, and mental wellbeing solutions; all without sacrificing design. Trend-related devices fashion-tech and an integral part of the Huawei ecosystem, for a «seamless user experience». To declare it is Pier Giorgio Furcas, Deputy General Manager Huawei Consumer Business Group Italy which stresses that 'the future of connected devices is no longer centered on smartphones; any device can be the central control hub and connect and manage any IOT device that surrounds it. "
Huawei Mate Xs 2, the foldable
Among the most anticipated devices there was, without a doubt, Huawei Mate Xs 2the new foldable weighing 255 grams. A result achieved thanks to the use of innovative lightweight materials, such as glass fibers, aerospace grade titanium alloys and ultra-light high-strength steel. So less overall weight, but more strength and resistance to fracture risk. A device ultra-thin and ultra-flat with the new generation Falcon Wing double rotation hinge. Huawei Mate Xs 2 comes with a design unibody which boasts a flat, seamless crease. The smartphone has extensive features from flagshipincluding a 7.8-inch True-Chroma foldable display it's a 50MP True-Chroma camera system which supports Huawei XD Optics. This foldable smartphone features a 4600mAh battery and supports 66W SuperCharge charging. It features ultra-thin, wide-width stereo speakers. To animate the whole Qualcomm Snapdragon 888 chip of the series flagship.
Huawei Watch GT 3 Pro, titanium or wax?
Watch GT 3 Pro is Huawei's latest flagship smartwatch, available in versions in titanium and ceramic. The interface design is completely new, ditto for the materials premium such as artificial sapphire crystal, a large ultra-sharp screen and a series of watchfaces to choose from. It is not a medical device, but thanks to the TruSeen 5.0+ data monitoring technology and the analysis of numerous parameters, GT 3 Pro allows a accurate measurement of physical and mental health conditions. In addition, it contains new professional training modes. Among these the modality immersion in apnea up to 30 meters, as well as more than 100 other sports. For all runners the Watch GT 3 Pro has customized running plans and the Dual-Band Five-System GNSS. This feature generates even more accurate geographic location data. One of the new ones feature most interesting of Huawei Watch GT 3 Pro is the possibility of synchronize your ride data with other compatible devices, including over 60 training apps from around the world, such as Runtastic And Komoot. You can set health challenges, but also track your sleep and water intake, or set up reminders for medication and more. There is also a function for managing the menstrual cycle.
Returning instead to the equipment, GT 3 Pro is equipped with a Amoled display high definition color from 1.43 inch. The larger surface area and 466×466 high definition resolution offer greater clarity than previous versions. The titanium version is equipped with a 3D tactile rotating crown. It allows the user to zoom in, zoom out and scroll through different interfaces or adjust settings. The ceramic edition also has a 3D rotating crown, but the Amoled display with its own 1.32 inches it is slightly smaller. Regarding battery life, the Titanium Edition has 14 days of battery life (or 8 days in heavy use scenarios), while the Ceramic Edition has 7 days of battery life (or 4 days with heavy use).
Cost: starting from 369 €
Huawei Watch Fit 2, rectangular display
Huawei Watch Fit 2 was created specifically for fashion-conscious technology lovers. It is a smartwatch entry-level, with a renewed design for a more complete health monitoring experience. The display is 1.74 inches with a resolution of 336 PPI and 336 x 480 pixels. On the speaker there is a speaker, in addition to the microphone, to answer calls via Bluetooth. The Dual-band GNSS five systems offers runners greater accuracy in the trajectory of travel. The modality Sport Field tracks mileage and pace more accurately, while the new route import and export feature allows users to import your own route in the smartwatch through the Huawei Health app. Users can also share their routes with friends.
Also through this app it is possible to create a personalized wellness plan, including daily steps, water intake, workouts, and more. There is also a notification reminding you to get up and not stay seated, with audio and animation. At the level of generated data, Watch Fit 2 monitors heart rate, blood oxygen saturation, sleep habits, and breathing. Additionally, of the 97 exercise modes, the 7 most common sports modes have a animated virtual fitness trainerwhich offers easy-to-follow audio instructions and demonstrations, including warm-up and steps stretching. Huawei Watch FIT 2 is available in three different editions Active, Classic ed Elegant.
Cost: starting from 149 €
Huawei Band 7, the smallest
Huawei Band 7 is the Huawei smart band thinnest ever. It has a broad Amoled display in curved glass. Thanks to the thickness of 9.99mm and the weight of 16g ​​(excluding strap), the wearer for sleep, when at work or during training barely perceives it. In Italy it is available in Graphite Black, Nebula Pink, Wilderness Green and Flame Red colors. Band 7 was designed for a 24/7 monitoring to improve their well-being and help users discover new ways to live a healthy and active lifestyle. It supports a system of functions for measure sleep, blood oxygen saturation level, stress, menstruation and heart health control. Furthermore, through the Huawei TruRelax algorithm, detects the level of stress and advises to do breathing exercises when this is too high. Like the other two wearable, Band 7 also allows personalized management of your well-being by setting various daily goals. Once the objectives are completed, the petals bloom to encourage users to develop healthy habits. Band 7 features an updated training tracking feature, with a total of 96 training modes and a duration of 14 day battery.
Huawei Watch GT 3 Pro Titanium Edition

Huawei Watch GT 3 Pro Titanium Edition

Huawei Watch GT 3 Pro Ceramic Edition
Huawei Watch GT 3 Pro Ceramic Edition
Source: Vanity Fair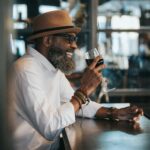 - Article Bottom Advertisement -